Super Bowl Tickets
Buying Super Bowl tickets can be extremely expensive and as such, very time consuming. One might spend hours upon hours researching the best Super Bowl ticket prices before actually pulling the trigger on a purchase.
The NFL offers an annual lottery that is free to enter and offers you a chance to win a pair of 2019 Super Bowl tickets valued at between $700-$1200 each. To enter the official NFL lottery you simply send your request for an official entry together with your full name and address by registered mail to the address below between February 1 and June 1 of the year preceding the game.
*Unfortunately, for reasons undisclosed the NFL will not be offering a lottery in 2018. This will be the first time in decades that NFL will not be holding this system. Instead, they are giving away 500 Super Bowl tickets, or 250 pairs of tickets, spread between all Fan of all 32 NFL Teams.
NFL,
Super Bowl Game
280 Park Avenue
New York, NY 10017
Read more about the 2018 NFL ticket lottery by visiting this link: 2018 Super Bowl Ticket Lottery
Know someone/work for the NFL
If you have set your sights on attending the Super Bowl  it's highly likely that you have considered purchasing your Super Bowl tickets directly from the NFL. However, your chances of doing so are extremely slim. The NFL distributes their tickets according to these percentages:
Super Bowl competing teams – 35%  – split evenly and given to coaches, players, families, and sponsors.
Host City team – 6.2% – majority is sold to season ticket holders.
Remaining (28) teams – 33.6% – distributed evenly as 1.2% for each team.
NFL keeps 25.2% – tickets are sold through partners, media, and sponsors
Super Bowl Ticket Contests
Pepsi Super Bowl Seats Contest   –  Win a trip to Super Bowl LII, including tickets!
Budlight Super Bowl Ticket Sweepstakes – Win a Super Bowl trip for 3.
Hyundai Super Bowl LII Sweepstakes –  Get Super Bowl Tickets and a Vacation from Hyundai.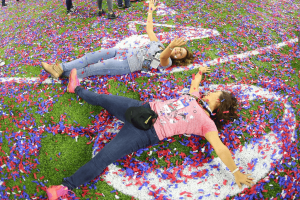 Sadly, your chances of winning this Super Bowl Tickets lottery or a Super Bowl ticket sweepstakes is very slim.
If you don't want to chance and want to make sure you're in the stadium to experience all the action, you're in the right place!
Zone Seating
The quickest and easiest method of getting your hands on some Super Bowl tickets is to buy a set of tickets by zone.
What is zone seating?
Super Bowl ticket brokers get their tickets from several sources, including players, coaches, partners, & sponsors. Because the majority of these tickets are not received until one week before the game, section and row are not determined until that time. Because of this unknown variable zone seating is the best way to get Cheap Super Bowl tickets. The teams that will contend for the Super Bowl trophy are announced following the completion of the Divisional Playoff games. At this point, prices start to soar, so the earlier you secure your seat, the better. If you buy from a legitimate company you will receive a guarantee and be able to pick up your tickets in time for the event.
It's completely understandable that you will want to have your Super Bowl tickets in your hands before you get on the plane. We can sometimes arrange expedited shipping via FedEx to get your tickets to you in the least possible time. However, if you've missed the cut-off time for in-hand tickets or would prefer to collect them in person, you can visit our secure pickup office in a downtown location in the host city, and we'll be happy to help. Tickets are typically available for in-person collection from the Friday before the game, and we'll keep our doors open until the very last ticket has been collected on Super Bowl Sunday.
MERCEDES-BENZ STADIUM
1414 Andrew Young International Blvd NW
Atlanta, GA 30313
FAQ
Where is Fan's ticket pick up?
All tickets purchased from Fan will be available in Downtown Atlanta. For security reasons we will provide the exact location to ticket purchase the week of the Super Bowl.
When can I pickup my SB Tickets?
Ticket Pickup will be on Friday, Saturday, and Sunday.
When do Tickets go on sale?
Tickets for the current year's Game will go on sale immediately following the previous year.
Are tickets available for shipping right now?
No.  Tickets for the Super Bowl game are not released until the week before the game; as such, all tickets must be picked up at our Pick Up location in Downtown.
Will you buy my tickets?
We are always looking for opportunities to add to our ticket inventory. If you have purchased Super Bowl tickets and won't be able to use them, please give us a call, and we'll give you a great deal.
What is your refund policy?
Sorry, but no. Our refund policy specifically states that purchases are final unless the event is called off.
Do I need to purchase an extra Super Bowl Ticket for my child?
The rules that govern whether children and infants need tickets tend to vary from stadium to stadium. In the majority of cases, children will need their own ticket, but infants can be admitted free of charge. However, you should always verify the details with the stadium or us before taking your children with you.
Can a Ticket be replaced if lost or stolen?
There is only one of each type of ticket available; as such, they cannot be replaced in the unfortunate event they are lost or stolen. For this reason, we advise you to put your tickets in a safe place and to take care of them at all times.
What is the face value?
The face value of the Super Bowl tickets typically ranges from $800-$1500. However, many tickets are priced in excess of $2,000.
Do you offer cheap Super Bowl ticketS?
Sign up for our newsletter, follow us on Twitter, Instagram, or join our Facebook page to be the first to know of any great ticket deals we have on offer.
When is the Game this year?
The next Super Bowl game will be played on February 4, 2018, at U.S. Bank Stadium in Minneapolis, Minnesota.
Who is performing the halftime show?