Super Bowl 2022 Tickets
How To Get Super Bowl Tickets?
Buying Super Bowl tickets can be extremely expensive and as such, very time consuming. One might spend hours upon hours researching the best ticket prices before actually pulling the trigger on a purchase.
How to enter the Super Bowl Ticket Lottery?
The NFL offers an annual lottery that is free to enter and offers you a chance to win a pair of Super Bowl tickets valued at between $700-$1200 each.
To enter the official NFL lottery you simply send your request for an official entry together with your full name and address by registered mail to the address below between February 1 and June 1 of the year preceding the game.
*Unfortunately, for reasons undisclosed the NFL will not be offering a lottery in 2018. This will be the first time in decades that NFL will not be holding this system.
Instead, they are giving away 500 Super Bowl tickets, or 250 pairs of tickets, spread between all Fan of all 32 NFL Teams.
NFL ADDRESS
Super Bowl Game
280 Park Avenue
New York, NY 10017
Do you know someone who works for the NFL?

If you have set your sights on attending the Super Bowl  it's highly likely that you have considered purchasing your Super Bowl tickets directly from the NFL. However, your chances of doing so are extremely slim. The NFL distributes their tickets according to these percentages:
Super Bowl competing teams – 35%  – split evenly and given to coaches, players, families, and sponsors.
Host City team – 6.2% – majority is sold to season ticket holders.
Remaining (28) teams – 33.6% – distributed evenly as 1.2% for each team.
NFL keeps 25.2% – tickets are sold through partners, media, and sponsors
Past Contests
Ticketmaster Contest   –  Win a trip to Super Bowl LII, including tickets!
Pepsi Super Bowl Ticket Sweepstakes – Win a Super Bowl trip and get on the field!
P&G Bowl LIII Sweepstakes –  Get Super Bowl Tickets and a Vacation from P&G.
Pizza Hut Game Plan Sweepstakes –  Get Super Bowl Tickets from Pizza Hut.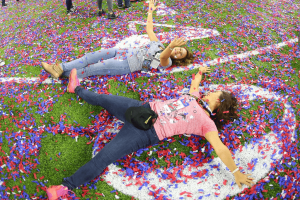 Sadly, your chances of winning this ticket lottery or a  ticket sweepstakes is very slim.
If you don't want to chance and want to make sure you're in the stadium to experience all the action, you're in the right place!
FAQ
What is your refund policy?
Sorry, but no. Our refund policy specifically states that purchases are final unless the event is called off.
Can a Super Bowl Ticket be replaced if lost or stolen?
There is only one of each type of ticket available; as such, they cannot be replaced in the unfortunate event they are lost or stolen. For this reason, we advise you to put your tickets in a safe place and to take care of them at all times.
Does Fan own Super Bowl tickets?
Fan Hospitality does not own ticket inventory or set ticket prices. Ticket prices are set by the owners of ticket(s) ("Seller"). As a result, the ticket prices listed may be substantially higher (or in some cases lower) than the original face value printed on the ticket.
What is the face value of a Super Bowl Ticket?
The face value of the Super Bowl tickets typically ranges from $800-$1500. However, many tickets are priced in excess of $2,000.
When is the Super Bowl this year?
The next Super Bowl game will be played on February 13, 2022, at SoFi Stadium in Los Angeles.
How to Buy Super Bowl Tickets?
Super Bowl Zone Seating
The quickest and easiest method of getting your hands on some Super Bowl tickets is to buy a set of tickets by zone.
What is zone seating?
Ticket brokers get their tickets from several sources, including players, coaches, partners, & sponsors. Because the majority of these tickets are not received until one week before the game, section and row are not determined until that time.
Because of this unknown variable zone seating is the best way to get Cheap Super Bowl tickets.
The teams that will contend for the Super Bowl trophy are announced following the completion of the Divisional Playoff games. At this point, prices start to soar, so the earlier you secure your seat, the better.
Ticket Pickup
Tickets are typically available for in-person collection from the Friday before the game, and we'll keep our doors open until the very last ticket has been collected on Super Bowl Sunday.
Where is the Super Bowl Location?
Super Bowl LVI will mark the eighth time the Super Bowl has been hosted in the Greater Los Angeles Area, the last of which was Super Bowl XXVII in 1993, which was held at the Rose Bowl.
The 2022 Super Bowl will mark the first time in history the event has been held in the City of Inglewood.
Super Bowl Stadium Address: 
SoFi Stadium
1001 S. Stadium Drive
Inglewood, CA 90301
Inglewood was originally set to host the Super Bowl LV in 2021 following a fierce bidding process between Tampa and Los Angeles. Los Angeles originally emerged winner in an NFL decision that was announced in May 2016,
Rain Delay
However, the Ram's later announced that the completion of its new stadium would be a year later than anticipated. Record-setting rain levels h during the excavation of the construction site in Inglewood led to significant issues that ultimately left the developers  behind schedule.
Five days after the announcement that the Inglewood stadium would be delayed, the NFL unanimously agreed that Tampa would replace Los Angeles as the 55th Super Bowl hosts.
Fortunately for Los Angeles, the NFL owners also agreed that Super Bowl LVI would automatically be awarded to Los Angeles, meaning that Super Bowl would return to Los Angeles, just one year later than originally planned.
The Move Back to Los Angeles
Los Angeles spent over twenty years without a football team. However, the 2016 announcement that the Rams would say goodbye to St. Louis to return to their previous hometown of Los Angeles came as welcome news to NFL fans in the city.
The Rams, who had left Los Angeles in 1994 following the news that the anticipated replacement stadium for the Anaheim Stadium would not be going ahead as planned, finally took matters into their own hands when Stan Kroenke announced that he would be spearheading a campaign to construct a new state-of-the-art stadium for the team in Inglewood, CA.
Delayed Opening
The new stadium, now known as SoFi Stadium, was originally slated to open in 2019, with Los Angeles set to host Super Bowl LV in 2021; however, following unexpected delays, the opening of the stadium had been pushed back to 2020, and Los Angeles will now host Super Bowl LVI.
SoFi Stadium Features
SoFi Stadium sits at the heart of a thriving NFL City development that includes a variety of entertainment and commercial venues including offices, a hotel, a performing arts venue, lake, casino, retail spaces, and recreation areas.
The staple of the stadium itself is the transparent glass roof that is designed to resemble a sail. The stadium incorporates a state-of-the-art video system named Oculus, an oval-shaped, video board that will hang from the stadium's roof and occupy an area of approximately 50 feet by 120 yards.
Key Facts About the Rams' SoFi Stadium, Inglewood, California
Seating Capacity: 70,000
Suites/club Seats: 250 luxury suites; 200,000 club suites, luxe cabana, field-level
Nearest Airport: LAX Airport
Super Bowl Halftime Show Performance - Most Memorable