Super Bowl parties in Los Angeles are going to be crazy this year. With 70,000 people attending the big game, unless COVID protocols change, you can only imagine how much more will be heading to LA for the weekend's epic parties. With its great weather and iconic spots, Los Angeles provides the perfect atmosphere for partying during the day or night. You've got concerts, family-friendly festivals, street parties, and more!
We know some of the biggest names from years past will definitely be returning. Big names like Maxim and Shaq are hosting Super Bowl parties this year that you won't want to miss! Here are the biggest Super Bowl parties in Los Angeles for 2022 – and where you can get tickets! It's the perfect way to round out a fabulous Super Bowl experience.
Shop Tickets to Super Bowl Parties with Fan! We've got tickets to some of the most spectacular (and famous) parties in LA!
Shaq's Fun House
Shaq has done this before in Miami, and we know he partied hard in Atlanta. Now the big man is back with his over-the-top "Fun House" experience for folks in Los Angeles during Super Bowl weekend! On Friday, February 11th, the NBA legend turned DJ is putting together another crazy night of concerts, DJs, dancing, food, drinks, and carnival-style entertainment for his guests (and celebrity friends, of course).
Headliners include Diplo, Zedd, and Lil Wayne… and of course Shaq aka DJ Diesel himself! This is going to be a wild night! Shaq really lets his imagination run wild when he plans a party, and Shaq's Fun House is sure to be one of the most sought-after tickets of the weekend. Read more details in our blog post and get tickets!
Get Tickets to Shaq's Fun House from Fan Hospitality! We're an official partner!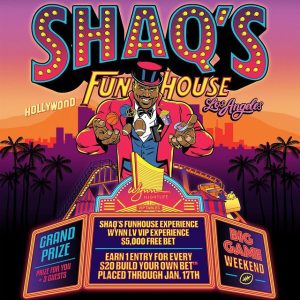 Maxim Electric Nights
On Saturday, February 12th, one of the biggest names in Super Bowl parties is hosting its annual event of lavish proportions. Maxim always features top-of-the-line entertainment and this year is no exception. In the past, the Chainsmokers, Justin Bieber, and Rick Ross have performed, to name a few. This year, you'll find famous DJ, Tiësto headlining the stage. The iconic men's magazine has been hosting this party for 20 years. In Los Angeles, they're taking over 50 acres of a downtown LA historic indoor-outdoor open air marketplace. But wait until you hear about this year's luxurious theme!
This party has been in the works for over a year – the production team says it'll be one of the biggest Maxim events ever, considering they had to go a year without the massive party due to Covid. This year's décor is centered around an upscale 1980s retro-futuristic theme that's perfect for the unique luxury and charm of LA! 50 Cent will be hosting this year's Super Bowl Party, and it's promised to be the "most exciting, over-the-top, elevated experience yet." Those are some bold words. Expect celebs, pro athletes, luxury, and of course, Maxim models. Get more details in our full post about Maxim Electric Nights!
Shop Tickets Maxim Electric Nights with Fan Hospitality! We're an official ticket partner, so there's no better place to find a great deal!
Bud Light Super Bowl Music Fest
It's not exactly a "party," but if you're looking for some live music, head to the Crypto.com Arena for three big days of concerts presented by Bud Light and produced by On Location Experiences, the NFL's hospitality partners. They're building on the success of past year's events, which featured Cardi B, DJ Khaled, Post Malone, Ludacris, Aerosmith, Ciara, and more.
This year, the Bud Light Super Bowl Music Fest will bring in famous artists like Halsey and Machine Gun Kelly on Thursday, Blake Shelton, Gwen Stefani, and Mickey Guyton on Friday, and Green Day and Miley Cyrus on Saturday. You'll need to get tickets for this one, and you can view more details on the official website.
Super Bowl Experience Presented by Lowes
And don't forget about Super Bowl Experience, especially if you're looking for more affordable events for the whole family. Head to the Los Angeles Convention Center for the NFL's football theme park. It's happening all week leading up to the Super Bowl. You'll be able to get autographs from NFL players, play games, take a picture with the Vince Lombardi Trophy, and more! Get all the info you need at the official website.
Make your Los Angeles experience amazing with an over-the-top Super Bowl party. Shop tickets to the biggest Super Bowl Parties in Los Angeles with Fan!
If you were heading to Los Angeles, which Super Bowl party would you want to attend?