Is it already that time again? Counting down to the next Super Bowl already?
Well, yeah. Why not?
Super Bowl LIII is coming to the Mercedes-Benz Stadium in Atlanta and preparations are definitely underway. Lots of events will be happening in the downtown area prior to the big game – most of them yet to be revealed. But we do know that bars, restaurants, and hotels in the vicinity will be packed with fans, bigwigs, and sponsors, and all of them need a place to sleep.
In February, the Atlanta Super Bowl Host Committee actually went up to Minneapolis to take notes on how to run the big show. Arthur Blank, the owner of the Falcons, whose home stadium will be used for the main event, had this to say about the upcoming plans and logistics for putting together a successful Super Bowl:
"Our environment is a little bit different because things are closer together. That's one of the reasons why our stadium has been so successful: We're a half a mile from over 10,000 [hotel] rooms. You've got the Congress Center right there. So you've got all these others things that make it easy for the fans, easy for the media, easy for everybody."
We'll see about that.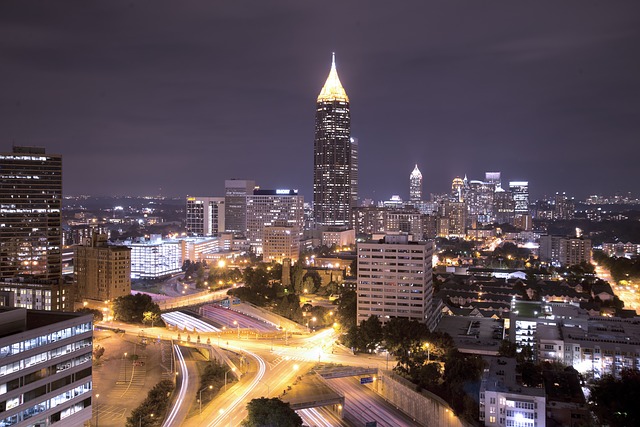 Hotels in Downtown Atlanta for the Super Bowl
There are around 100,000 hotel rooms in the Metro Atlanta area. However, the majority of hotel rooms located downtown (ie, super close to the stadium) have been reserved by now, mostly by the NFL as we've discussed before. And lots of other companies have them booked up to sell as part of their Super Bowl ticket packages.
So sorry, you've probably already been shut out of downtown ATL.
Though it's a stretch, we'd recommend that you keep checking (just in case) because it's still early and some hotels have limits on how far in advance they allow you to book. Just don't get your hopes up for early morning views of the stadium from your hotel room unless you're ready to splurge.
Seriously, start browsing for Super Bowl hotel rooms now and see what turns up! We'll bet it looks something like this…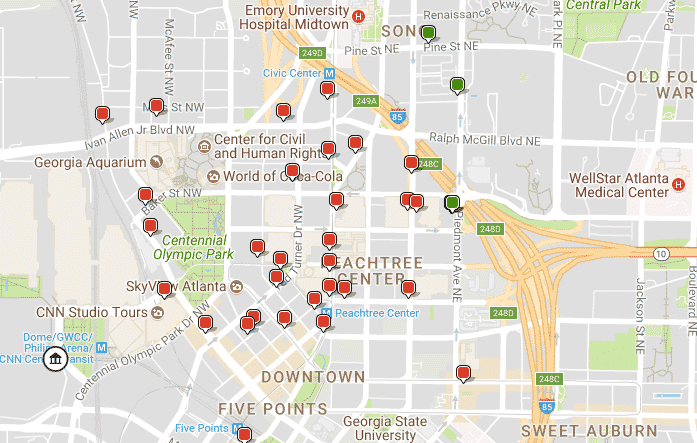 Just a quick search of Hotels.com for February 1st through February 4th, the Friday through Monday surrounding the Super Bowl, reveals a handful of options running into the $1,000+ range. But mostly you'll get a red notice that reads, "Fully booked! We're sold out for your travel dates."
At the moment, the cheapest is $1,049 for three nights at the Your Pick Corporate Rentals Midtown and it's 1.4 miles from the stadium. The rest will run you up to $4,000 for three nights.
If you're planning to head to The Big Peach for Super Bowl 53 either way and that's in your budget, then by all means, go ahead and book! They definitely won't last long.
If not, hey, you don't exactly need to stay within walking distance to the stadium, right? You have other options.
Places to Stay Outside Downtown Atlanta for the Super Bowl
No fear, Atlanta is the land of suburbs. You can stay outside the city in some pretty trendy spots and use public transportation, or (God forbid) drive into the city. But seriously, ATL is known for its hellish traffic, so maybe don't do that.
Alpharetta, Roswell, Sandy Springs, Dunwoody, Brookhaven, Decatur, Kennesaw, Duluth, Suwanee, and Douglasville are a few of the towns that are relatively close to Atlanta. To make it even easier, choose one with a MARTA stop (like Dunwoody, Decatur, or Sandy Springs) and head into the city by rail or bus. Here's a handy guide to Atlanta neighborhoods and suburbs with MARTA access.
These areas boast plenty of hotels – Atlanta hosts tons of conferences and summits every year, after all – but you're still going to want to book as soon as you can. For big events like this, just keep in mind that some establishments make reservations non-refundable, so make sure it's a price and location you can live with!
Airbnb will also have options. No doubt there are several homeowners around town looking to make some cash off of Super Bowl visitors who need a place to stay. At the moment, the prices of some homes don't reflect the Super Bowl is in town, so it's likely that many hosts haven't updated their listings yet. (Don't worry, they'll get wise.) Just be aware that if you get what seems like too-good-of-a-deal, hosts are always allowed to cancel your reservation (since it is their home and all).
One thing. Don't stay near the airport unless you're literally flying in and out for the game. According to locals, there's nothing much to do in that area. But we have heard rumors of hotel rooms available there…
Super Bowl Packages with Hotels
Big hotels like the AC Marriott, Loews Hotel, Hotel Indigo, and the InterContinental already have rooms that are reserved and bundled up into package deals. Ya know, the ones where you get a ticket, transport, and maybe a tailgate party included? As mentioned, that's where a lot of these booked-up rooms have gone.
If you're looking into an all-in-one sort of trip for Super Bowl weekend, that's kinda what we do. We've got some in the works right now. Check here for details.