Did you book your hotel room for the Super Bowl already? If you're a huge Patriots fan (or maybe you've always had faith in the Eagles) and planned ahead, then good on you! Because there are literally zero hotel rooms available in Minneapolis right now. At least not downtown.
The thing is, Minneapolis and St. Paul don't exactly have that many hotel rooms to begin with. Even after several new hotels were completed, the Twin Cities are estimated to have about 40,000 rooms available (and fewer than 10,000 of those are located downtown close to the stadium).
Compare that to 2017 host city Houston's 85,000. At last year's Super Bowl, the average hotel room went for $278 per night. Expect that number to be much higher in the Twin Cities.
If you want to make yourself feel a littttle better, just know that there isn't much you could've done. Most of these hotels were rented out by the NFL and their partners a long time ago. Some of them were fully booked right after the announcement that Minneapolis would host the Super Bowl.
Yeah, back in 2014.
The NFL reserved 19,000 rooms, particularly those prime downtown locations, almost four years ago.
For example, the Minneapolis Hilton, the largest hotel in Minnesota (with 821 rooms) is fully booked by the NFL.
When it comes to what's left, there are drastically varying prices and levels of quality around town and farther out. Hotels, motels, airbnbs, you name it. Booked up or charging sky-high prices. Rooms are going for about five to ten times their normal nightly rate, especially from Friday to Sunday night. But this was expected, especially after the Vikings lost. That eliminated a load of people who wouldn't have needed to rent a room.
One Super 8 Motel located seven and a half miles from US Bank Stadium is charging $400 per night. There was a moment in Internet time when you could've snatched up something not-that-nice in the 'burbs for $200 a night… but those rooms are probably gone now.
With what's available, you're currently looking at staying 10 miles out. And even many of those rooms are running upwards of $500 per night.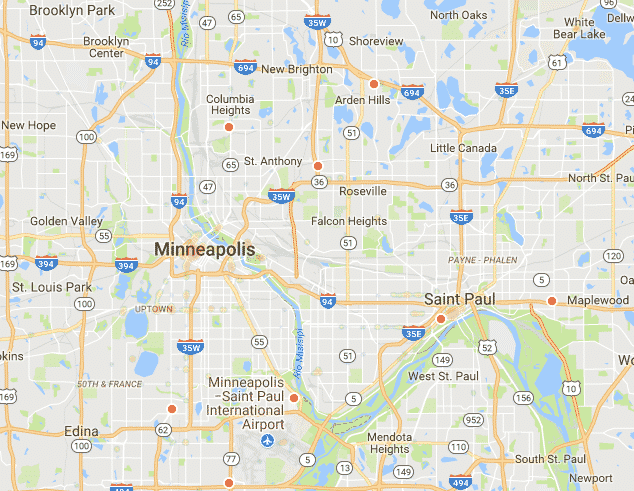 So how did we get here?
In order to even be considered as a Super Bowl host city by the NFL, you've gotta meet certain requirements. Their pretty demanding list was leaked to the media, so we've got a good idea of what they're looking for in bids from prospective cities:
Enough available hotel rooms to hold at least 35% of their stadium's capacity located within a 60-minute drive of the stadium. (For Minneapolis, that means 23,330 rooms since US Bank Stadium holds 66,655 people.)

Free use of the presidential suites at the city's top hotels

35,000 parking spots for use by the NFL (at no charge, of course)

100% of proceeds from all ticket sales and control of all luxury suites and club-level seats in the stadium
The NFL is a powerhouse of income production and it does bring a lot of revenue to the local establishments, hotels, and restaurants of the host city, so it can usually be as picky as it likes. (FYI, Roger Goodell requests no brown M&Ms in his party suite.)
While it's rumored that Minneapolis didn't give in to all their demands, word is they gave in to most in order to win. And immediately after being selected, the majority of Minneapolis hotel rooms vanished into the hands of the NFL.
So what is the NFL actually doing with all of these 19,000 hotel rooms?
Well, they've partnered up with PrimeSport (a division of On Location Experiences) to offer packages that include things like accommodation, airfare, transport, and tickets for around $7,615 all the way up to $25,000. Of their five packages, only one of these includes a stay in a hotel within walking distance of the stadium though. And it doesn't include flights.
Primesport has also partnered with the Eagles and the Patriots to create custom packages that (sometimes – you have to check carefully!) include travel, tickets, hotel accommodations, and a tailgate party with top-shelf booze for fans.
But wait, if the NFL is only offering up a limited number of hotel rooms downtown for sale to the public, then who's staying in the others? 
They do need a place for both Super Bowl teams and coaches to stay, of course, but that doesn't answer the question.
There are only two words to sum up this mystery: Corporate schmoozing. Sponsors, corporate execs, team owners, billionaires, league executives, and the NFL's "most valued and influential guests" (i.e. probably not you) will likely be the ones who get to stay in the best spots around town.
Because you wouldn't want the CEO of Budweiser and 15 of his closest friends taking the train to the stadium, now would you?
Luckily, we planned ahead and we've got Super Bowl packages that include tickets and accommodation! Check those out here – we've only got a few left!