Good news for fans hoping to attend the 2019 Super Bowl in Atlanta. The NFL is cool with the Mercedes-Benz Stadium selling concessions at their usual low prices and opening up the roof during the big game. That means $2 hot dogs and warmer temps, making for a more affordable, comfortable, fan-centric game-day atmosphere. (Well, hopefully. Fingers crossed there won't be a repeat of the crazy ice storm that happened the last time Atlanta hosted a Super Bowl in 2000.)
According to Steve Cannon, the CEO of Falcons owner Arthur Blank's business group: "I visited the Minnesota Super Bowl last season, and I said, 'One thing is for certain: The temperatures in Atlanta will be higher, and the food prices will be lower.'"
Cheap Food and Drinks at Mercedes-Benz Stadium
The Falcons made headlines a couple years back when they announced their "fan-friendly" food and drink prices. The team had a revolutionary idea: $2 hot dogs, $2 bottled water, $3 popcorn and french fries, and $2 sodas (with unlimited refills!) to avoid the normally price-gouging costs of attending an NFL game. The Falcons' goal? They wanted a family of four to be able to eat at the game for $28 or less. And then they followed through with it.
Mercedes-Benz Stadium has the lowest food prices in major league sports. They even have $5 beers! They also use "whole dollar" pricing so tax is already included and you don't have to worry about coins.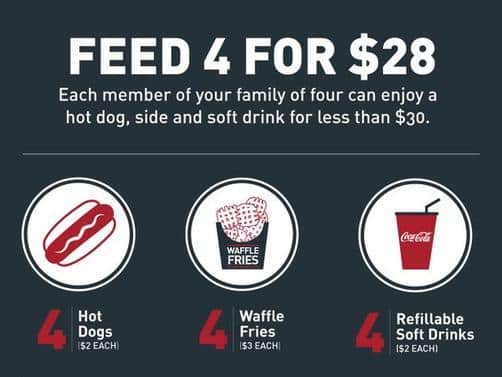 It wasn't a short-term strategy or a one-time gimmick either. They've kept this policy and pricing structure in place for other events besides NFL games, including Atlanta United soccer games and "major events" like the Chick-Fil-A Peach Bowl, the SEC Championship, the NCAA College Football Championship, and the future NCAA Final Four which is scheduled for 2020. They plan to do the same for conferences, concerts, and other "special events" booked in the stadium. So does that include the Super Bowl?
Yes! The NFL, as it turns out, welcomes these same low prices during Super Bowl 53, which is pretty unheard of but definitely awesome for attendees who are used to spending an arm and a leg at pro sporting events (and who already forked over thousands for tickets). Stadium officials say they stipulated in their Super Bowl contract that concessions prices would remain the same as regular Falcons games if Atlanta won the right to host. During negotiations, NFL VP of Event Operations and Production Jon Barker said, "It was an easy yes."
These prices might just cause a little reverse sticker shock for some fans.
Opening the Retractable Roof During the Super Bowl
Mercedes-Benz Stadium has an awesome, camera-lens style retractable roof for those blue-sky Georgia days. Super Bowl 53 is set for February 3rd, but it's still possible that the weather will be fiiine. Temperatures in Atlanta can fluctuate between highs of 69 and lows of 32 degrees in early February, and weather permitting, the NFL wants the roof to be open at the big game. (Hey, the Falcons did pay a whopping $1.5 billion to build the place, so they may as well use of those state-of-the-art features.)
According to Peter O'Reilly, the NFL Senior VP of Events, "We did that in Arizona for Super Bowl XLIX in a model there where they typically don't open the roof for a stadium, but we opened it for the Super Bowl… In our mind, [an open roof] creates some great energy in that building. We obviously will be down for a number of Falcons games this fall. And I know the plan is for it to be open, pending weather. So we'll evaluate it and watch that."
NFL officials will be scoping out the scene, heading down for a few Falcons games, and checking out their new digs to make sure they like what they see. Though the retractable roof had some issues during the 2017 season because construction hadn't been completed yet, as of July this year, it's fully functional.
The roof itself takes about 12 minutes to retract and the decision of whether or not to open it up must be made at least 90 minutes prior to kickoff. That decision is solely in the hands of the NFL. Jon Barker said, "Open-or-closed is going to change the dynamics of a few things – some of our halftime stuff, some of our pregame stuff. All of that will go into consideration, but … from an NFL standpoint, we would love to see it open."
So while there are a few technical considerations to consider in terms of an open or closed roof, it's mainly about the weather. And that means it'll be a game-time decision. Literally!
…But it sure would be cool to have it open.
This news just makes Super Bowl 53 in Atlanta even more exciting. If you're thinking of heading to the big game, check out Fan's selection of tickets.
Does this news about cheap food and an open roof have you more excited about Super Bowl LIII in Atlanta?