As you may know, a couple years back, the NFL did away with its usual Super Bowl Ticket Lottery, a random drawing that gave a few hundred lucky fans the opportunity to purchase tickets to the big game at face value. Now, giveaways are set aside for deserving fans and all kinds of heroes. For the past couple of years, the NFL has decided to give away 500 Super Bowl tickets to fans who "exemplify the heart of their team's spirit."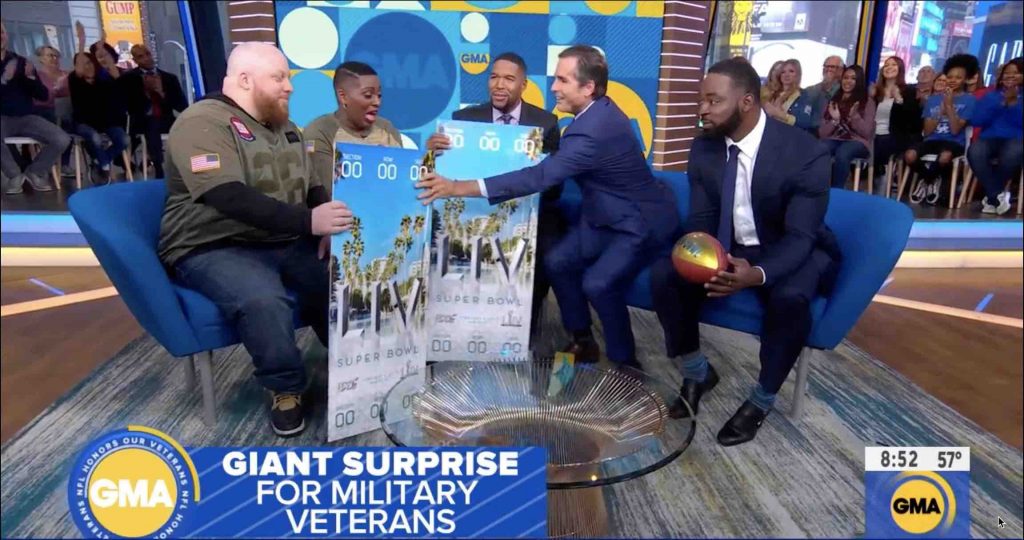 While we're not exactly sure how the NFL decides who its "most deserving fans" are, we have seen a few ticket giveaways highlighted in the news. For instance, over the past few years, the NFL has gifted these tickets to a child cancer survivor, blood donors, police officers who coach little kids in their spare time, an entire youth football team, and some Seahawks fans who were just at the right place at the right time! You can read more about past year's Super Bowl ticket giveaways in this blog post, but fair warning, it's a tear-jerker! Meanwhile, here's what we know about the NFL's Super Bowl ticket giveaway so far this season…
Need tickets of your own? You can still get great prices on Super Bowl tickets with Fan Hospitality. And we'll never add on any crazy service fees! Shop tickets and packages now!
Has the NFL given away any tickets this year?
Yes! Recently retired Tom Brady gifted Super Bowl LVI tickets to a 10-year-old cancer survivor, Noah Reeb. Noah and his family will all be going after meeting Brady during week 7 of this year's season. The Football star announced this giveaway in a video to the young Bucs fan saying, "You've inspired so many people, including myself but millions of others also and the NFL and the Bucs look forward to sending deserving fans to the Super Bowl each year and fans that have incredible stories like the one you have." 
.@TomBrady surprised 10-year-old brain cancer survivor Noah Reeb with Super Bowl tickets. This is what it's all about ❤️ pic.twitter.com/Qo6QdjM1qI

— NFL (@NFL) January 15, 2022
At the same time, The Red Cross announced they'd be partnering with the NFL to giveaway free Super Bowl tickets in exchange for blood donations. In an effort to address the current low supply of blood donations recently, The Red Cross is trying to incentivize people to donate blood which will in turn enter them into the Super Bowl giveaway for a chance to win two tickets to the Super Bowl, entry into the official NFL Tailgate, round-trip airfare, a 3-night hotel stay, and a $500 gift card.
We're facing a national blood crisis.

Doctors are having to make tough choices about who receives transfusions and who has to wait. You can help by making an appointment to give at https://t.co/4JVikYXKuP or these 3 other ways. pic.twitter.com/TigqB4cVqk

— American Red Cross (@RedCross) January 11, 2022
The owner and CEO of the Colts, Jim Irsay, is also giving away tickets to two die-hard fans. The lucky winners will also get airfare and hotel accommodations. But how do fans win? All they have to do is retweet Irsay with something that proves they're a true fan.
I'm sending two pairs of BENGALS FANS to the SUPER BOWL. Who are dey??? Airfare, hotel room, game tickets. Respond via a retweet and PROOF THAT YOU'RE A HARD CORE BENGALS FAN. Deadline 11pm tonight. Have at it! (Colts fans tomorrow).👍🏈😎

— Jim Irsay (@JimIrsay) February 1, 2022
But the giveaways are still not done! The Raiders also gave free tickets to a much-deserving school principal during a virtual meet-and-greet. Gwendolyn Woolley Elementary School Principal Joseph Uy is known by those in the community as being more than just a principal. With the current school staff shortage, he's known for subbing whenever needed and stepping up to the plate to make the school the best it can be for young learners.
An elementary school principal got the surprise of a lifetime from the Las Vegas Raiders during a Zoom call on Thursday.https://t.co/txRKKLqbo2

— NTV News (@NTVNEWS) January 25, 2022
Down in Florida, the Jacksonville Jaguars also gave a local hero tickets to the Super Bowl. The team's Walter Payton NFL Man of the Year nominee, Myles Jack, gave two tickets to John Marcus. In high school, Marcus was in a dangerous car accident that left him in wheel chair ever since. Marcus is well-known in Jacksonville as he visits schools and inspires people to persist through hard times, using his story as an example. 
https://www.jaguars.com/news/jacksonville-jaguars-linebacker-myles-jack-surprises-super-bowl
Stay tuned for more giveaways as the season progresses. You never know where an NFL player might show up to surprise some lucky fans!
Oh, and FYI, the NFL does still hold the ADA random drawing for Super Bowl tickets, and you can read those rules here. 
Your chances of winning the NFL's giveaway might be slim, but you can still get great deals on Super Bowl tickets with Fan! Shop now!
Have you been following the NFL's Super Bowl ticket giveaways in the news?