If you're looking to attend this year's Super Bowl in Miami, why not let someone else do the planning? There are all sorts of Super Bowl packages out there, from the basic to the glitzy. Typically, they include your tickets and hotel room, but they can also encompass things like pregame events, parties, transportation to the stadium, club-level access, and even flights. 
We're a little biased, but Fan Hospitality does a fantastic job of meticulously curating Super Bowl experiences for fans. The Super Bowl is what we do. This is a bucket-list event for most, so you'll be happy to have our team of experts and industry connections on your side. Fan can help you make the most of your Super Bowl weekend! (It's more than just Super Bowl Sunday, guys.) You can save time, money, and hassle by letting us plan your Super Bowl experience. Here's a look at all of Fan Hospitality's Super Bowl Packages!
Shop Fan Hospitality Super Bowl Ticket Packages! We've got great deals that include Super Bowl tickets, three or four nights in a Miami hotel room, roundtrip transportation to the big game, a pregame party with top-shelf bar and food offerings, and more! Just keep reading…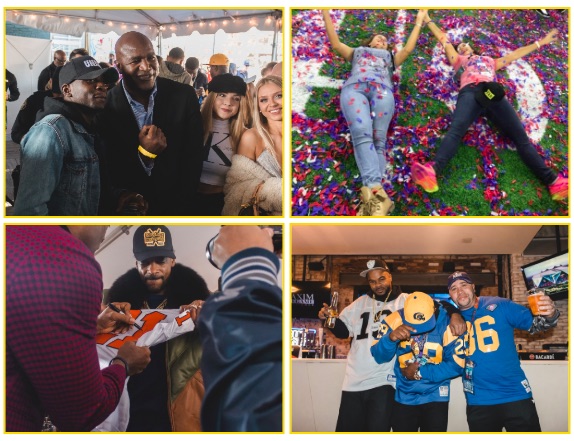 What do Fan Hospitality Super Bowl Packages Include?
All of our packages include tickets, a room in one of the city's best hotels, Super Bowl memorabilia, and a pregame party. As an additional perk for guests of Fan, we've also included roundtrip transportation to and from the game on Sunday, which means no need to worry about the additional cost of parking near the stadium! Here's a breakdown of everything included in Fan Hospitality's Super Bowl Packages:
Super Bowl 54 Game Tickets (with upgrades available)
3 or 4 Nights Reserved Accommodations in Deluxe Miami Beach Hotels (see below for options)
Welcome Reception Party
On-Site Staff to Assist
Pregame Party Experience with 5 hours of top-shelf open bar and food from 12pm-5pm on Super Bowl Sunday
Roundtrip Game-Day Transportation from the Pregame Party to Hard Rock Stadium
Official Super Bowl Merch – Souvenir Bag, Credential Holder, and Lanyard
Optional Add-Ons like an Exclusive Friday or Saturday Night Super Bowl Party
As always, there are no additional fees when you buy from Fan, something you'll need to watch out for when booking Super Bowl packages with most other sites!
What Do Fan's Super Bowl Packages Cost?
Ahh, the key question in any Super Bowl ticket buyer's mind. In this case, it depends on which hotel you'd prefer, how many nights you want to stay, and how many people you've got going. (Obviously, you'll save money if you split your hotel room with somebody!) We've got rooms available at the Cadillac Hotel & Beach Club as well as the Fontainebleau Miami Beach. Hey, we know if you're headed to Miami in the middle of winter, you're going to wanna be on the beach!
Here are our available Super Bowl Package options and pricing:
Cadillac Hotel & Beach Club, Double Occupancy:  $7,399 per person for 4 nights
Cadillac Hotel & Beach Club, Single Occupancy:  $8,699 per person for 4 nights
Fontainebleau Miami Beach, Double Occupancy:  $9,999 per person for 3 nights
Fontainebleau Miami Beach, Single Occupancy:  $12,499 per person for 3 nights
Already Sold Out: The Atton Brickell and Nobu Miami – Sorry! If you're in the market for a Super Bowl Package, be sure to hurry!
Don't forget, these prices include all taxes and fees already, so what you see is what you get! Just book your flight and get down here!
What Super Bowl Tickets Come With Fan's Packages?
Upper Level Endzone tickets come standard in each of our packages, so if you just want to get yourself to Miami and get in the door on game day, you're all set! But we make it easy to upgrade your tickets if you want even better seats.
For instance, if you wanted to upgrade to the Upper Level Sideline, it would be an additional $800 per ticket. Or if you wanted to move to the Lower Level Endzone, it would be an additional $2,500 per ticket. After you select your hotel package, you can choose how many tickets you want to upgrade and which sections you want. See a full list of sections available for upgrade here.
What About the Pregame Party?
Last year, we partnered with Maxim to throw an unforgettable pregame party on Sunday for all of our Super Bowl guests. Deion Sanders MC'd and Snoop Dogg performed at The Maxim Pregame Experience, and we hosted it at one of Atlanta's best sports bar complexes.
This year, we'll have something just as awesome on deck beginning at noon on game day, complete with food and flowing top-shelf drinks! This ensures you've got a fun (and convenient) spot to pregame in Miami and get hyped before heading off to the Super Bowl. Stay tuned for more details.
Shop Fan Hospitality Super Bowl Packages! Get your Super Bowl tickets, pregame party, transportation, and hotel all in one place! All you've got to do is book a flight! But hurry while we've still got packages available!
Would you opt for a Super Bowl Package or DIY it?