After a seven-year hiatus from the Super Bowl pregame scene, Maxim joined forces with online ticket marketplace TickPick to throw an incredible tailgate party for fans. Turns out, they haven't lost their edge. Here's a recap of what went down at the MAXIM Pregame Experience on Super Bowl Sunday in Atlanta.
In true Maxim style, no detail was left unplanned. They had food, drinks, entertainment, and beautiful people in place and ready by noon, even after throwing one of the biggest Super Bowl parties of the weekend the night before. Hosted by NFL legend and sports commentator Deion Sanders, the highlight of the Maxim Pregame Experience was an appearance by DJ Snoopadelic, aka Snoop Dogg, who headlined with a few DJ sets on the roof to get everyone hyped for the big game.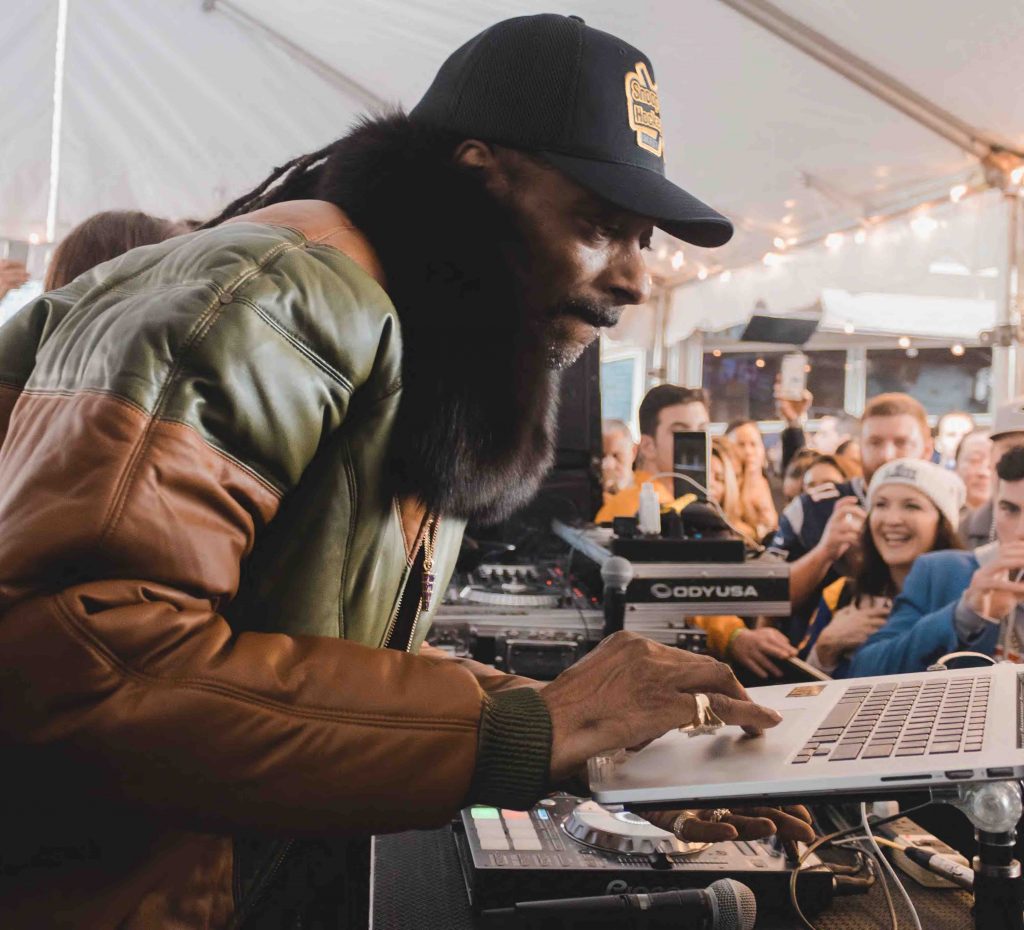 STATS, one of Atlanta's best downtown sports bars (and really, a huge complex of multiple restaurants and bars), provided the perfect backdrop for the party. Fans geared up for the Patriots-Rams matchup that evening with an open bar, gourmet buffet spread, music from multiple DJs, and even a little rooftop dancing. During the five-hour tailgate festivities that followed, food and drinks were provided by STATS Brewpub, Max's Coal Oven Pizzeria, and Twin Smokers BBQ, so there were plenty of options.
Complete with red carpet entry and photo opps for fans, guests showed up in their best team gear (or not) for an unforgettable Sunday Funday. Of course, it wouldn't be a Maxim party without the iconic Maxim models and this pregame was no different! There were plenty of beautiful hosts – decked out in sports-themed outfits, obviously – to get everyone in the football spirit, make the crowd feel welcome, and pose for pics. Because how else would you make your friends jealous of your Super Bowl Sunday?
Atlanta-based stars like Evander Holyfield and Lil Jon showed up to walk the red carpet, pose with models, and party before the big game too. (Celebrities, they're just like us!)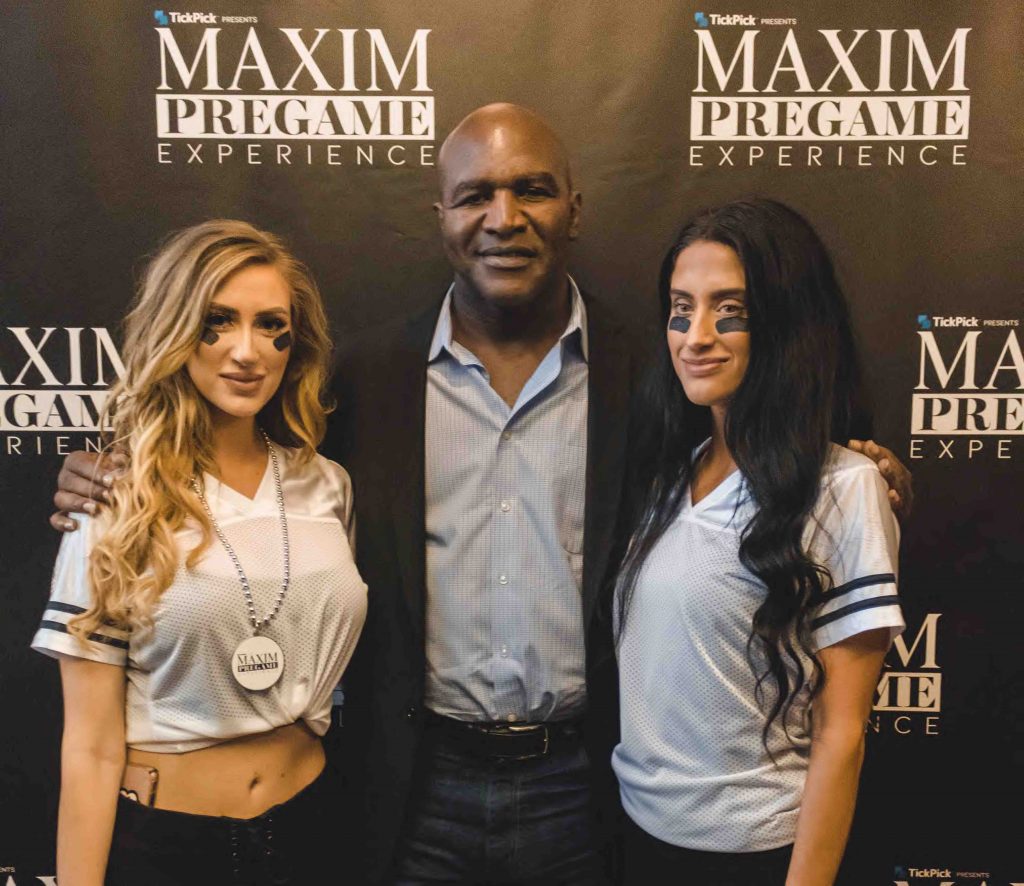 Whether you wanted to get crazy on the dancefloor or pace yourself for the most important kickoff of the year, there was room to chill at a table with friends over beers or get rowdy… both indoors and out. Guests could watch pre-game coverage on multiple flat-screen TVs throughout the venue or shake it with models while trying to snap a selfie with Snoop. But naturally, the STATS rooftop deck high above downtown ATL was a favorite hang-out spot for all.
Fans could also bid on sports memorabilia like signed NFL helmets, jerseys, and framed photos in a silent auction. TickPick and Maxim also gave out beads, wristbands, swag, and photo props for guests to amp up the Instagram-ability of the occasion.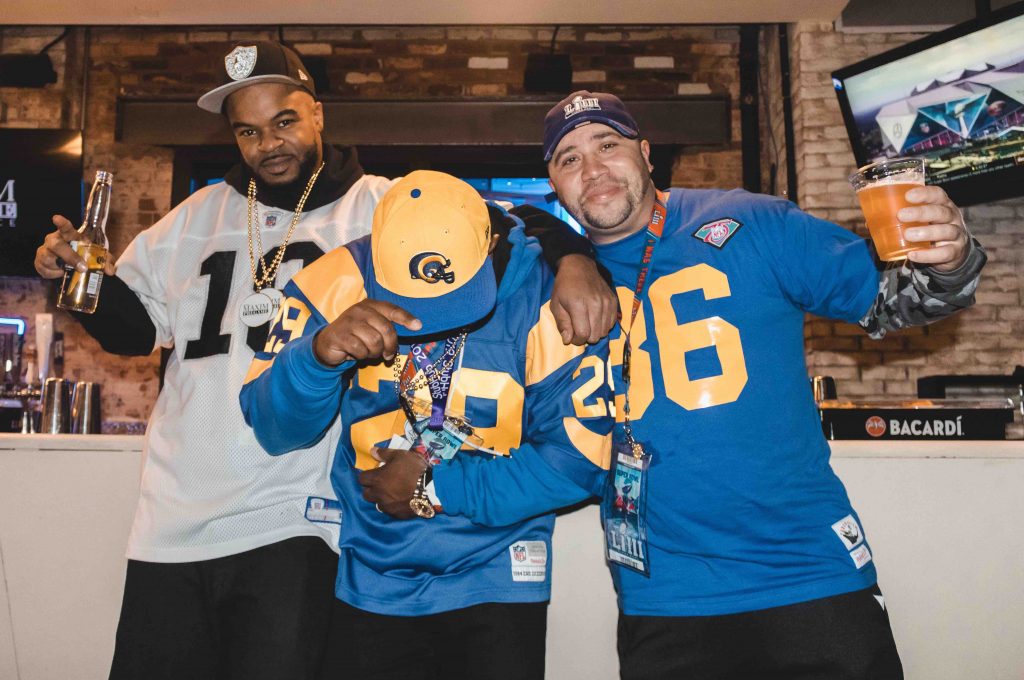 This year's Maxim Pregame Experience in Atlanta showered fans with epic entertainment, great food, plenty of drinks, and a party atmosphere that truly catered to everybody in attendance. There was a ton of Super Bowl excitement and anticipation in the air, and for at least a few hours before the game, Rams and Patriots fans partied alongside each other with no hard feelings… We're hoping Maxim will do it again in 2020!
Just FYI, sales of tickets to this pregame party were open to everybody, even if you weren't heading to the Super Bowl afterward! But fans who purchased Super Bowl ticket packages through TickPick or Fan Hospitality received complimentary access to the MAXIM Pregame Experience. Just one of the many perks of booking with us…
So… want to pregame with us next year?