Well, that's it! It's down to the final two. Atlanta will see a Patriots-Rams Super Bowl on February 3rd in Mercedes-Benz Stadium. If you're looking to head to the big game, we know where you can find the best deals on Super Bowl tickets. But first, here's a breakdown of the teams, the official odds straight out of Vegas, and current Super Bowl ticket prices and trends.
Super Bowl 53 Teams
Surprise, surprise, the Patriots did it! Despite a very un-Patriot look at the start of the season, they clawed their way back into contention to go to their fourth Super Bowl in five years. Tom Brady and Bill Belichick will be battling the Rams' Jared Goff and Sean McVay on Super Bowl Sunday in front of the nation. Will Tom Brady have to use both hands to fit that sixth championship ring or will the young QB-coaching duo out of LA take home the Lombardi Trophy? Here are our thoughts on the teams and our Super Bowl predictions.
The Los Angeles Rams
This new-school team from the west coast has been a Super Bowl favorite since the spring. No matter what struggles Jared Goff might have had at the end of the regular season, his team believes in him. The Rams function best when he can get the ball to star running back Todd Gurley, who can run and catch the ball. But in their game against the Saints, the Rams proved they can win even when Gurley isn't at his best. Good thing for him, CJ Anderson was operating at a high level on Sunday! Gurley himself denied suspicions of injury, saying he just played "sorry" against the Saints, while McVay said it was the "flow of the game" that caused him to use Gurley in more of a secondary role. But now we're all wondering if McVay will use the NFL's highest-paid running back to his full potential on Super Bowl Sunday? Seems a shame not to! Keep in mind the Rams also have the league's best defensive player in Aaron Donald and no one has quite figured out how to stop him yet.
The New England Patriots
Vegas usually knows what they're talking about… and they never once ruled out the Patriots this year. Despite more losses during the regular season than we're used to from the almighty Patriots, they still managed to steamroll the Chargers and knock out the Kansas City Chiefs in an up-and-down, overtime battle amidst freezing temperatures. Now Brady and Belichick are heading to the big game together for the NINTH time! Belichick is a defensive genius, so he'll probably try to destroy the thing the Rams are best at – the running game. (And it doesn't help that Gurley is looking iffy.) The Patriots' O-line may also try to double-team Aaron Donald to keep the Rams' defensive playmaker in check. Brady will be Brady, and when he's feeling the flow with Edelman and Gronk, God help their opponents. We hate to say it, but we're picking the Patriots.
Team Odds of Winning Super Bowl 53 in Atlanta
Despite opening as one-point underdogs – well, for a few minutes anyway – the Patriots are now the favorites to win Super Bowl 53 with the line currently set at -2.5. That Patriots money started flooding in just after their victory over the Chiefs on Sunday, and Vegas keeps adjusting the odds to reflect that. We'll likely see the line move to -3 before kickoff. As of Tuesday, about 83% of bets placed have been on the Patriots and a shocking 88% of the money. Guess nobody else wants to bet against Tom Brady either…
The over/under opened at 58, the highest Super Bowl point total in history. It's now at 57.5. Oh, and if you care about these, things, Amazon's Alexa is calling for the Pats to win. Just keep in mind, the Patriots do win a lot, but they don't always cover.
Super Bowl odds as of January 22nd via OddsShark:
| | |
| --- | --- |
| Team | Odds |
| New England Patriots | -150 |
| Los Angeles Rams | +130 |
Current Super Bowl Ticket Pricing & Trends
With the AFC and NFC Championships finished and the teams solidified, we finally have an idea of demand for this year's Super Bowl tickets. Experts expect that this year's sales will follow the trajectory of 2017's matchup between the Patriots and the Falcons. We've got huge national fanbases sure, but throw in quite a bit of "Patriots fatigue" and it's possible we'll see prices dip a little before kickoff. That year, ticket prices dropped 38% after Championship Sunday and this year they've already dropped 17%. You're also looking at one of the biggest inventories in the secondary ticket market in years, so if you're looking for a (relative) bargain of a Super Bowl, this one might be it!
Last year's average Super Bowl ticket had a list price of $7,277 by game day, but in the week leading up to kickoff, the average dropped to as low as $5,339. Currently, tickets range from $3,349 to $30,000. Sometimes it pays to be patient, but don't forget you'll need a flight and hotel room too! And those won't be cheap either (read our breakdown of Atlanta hotel prices). Check out Fan's selection of Super Bowl Ticket Packages if you need a hotel room to go along with your tickets – we can help with that! We also include gameday transportation, tickets to the Maxim Pregame Experience, and other excellent perks!
If you're shopping for Super Bowl tickets at other online ticket marketplaces, be sure to click "show prices with fees" so that you can see the actual totals. Fees can add up to hundreds of dollars (or more). At Fan, we've got some of the best deals around on Super Bowl tickets because we don't add buyer fees. You can also shop tickets by "best deal" to see how good your seats are based on our algorithm that takes into consideration value, view, and historical prices. We've got everything from the cheap "get in the door" seats to luxury club level, depending on your Super Bowl budget. And our cheapest tickets just got cheaper!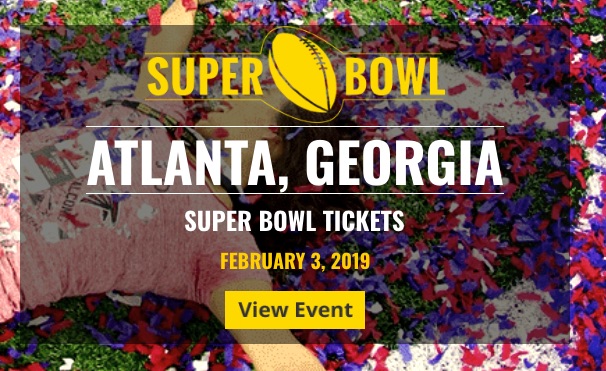 Fan Hospitality
Cheapest: $3,348 (Upper Level Corner)
Best Deal: $4,582 (Lower Level End Zone)
Best Seat: $13,618 (Mezzanine-Level Club) or $15,173 (Lower Level Sideline Club)
Vivid Seats 
Cheapest: $2,904 plus fees (Upper Bowl)
Best Seats: $12,567 plus fees (Lower Level Sideline Club)
StubHub 
Cheapest: $3,700 (Upper Level Endzone)
Best Seats: $16,742 (SunTrust Club or AMG Lounge Club)
SeatGeek 
Cheapest: $3,546 (Upper Level Endzone)
Best Deal / Best Seats: $11,900 (Lower Level Sideline Club)
If you're a Rams fan, a Pats fan, or just hoping to experience a once-in-a-lifetime, bucket list sporting event, start shopping for tickets NOW. Browse our no-fee Super Bowl tickets at Fan and check out our selection of Super Bowl Ticket Packages, Super Bowl Parties, and the exclusive Maxim Pregame to get the full experience! 
Who are you betting on?
Go on, take a look at Super Bowl tickets!