We're down to the final four NFL teams this season and the main event is just around the corner. Only two more games and we're headed to the Super Bowl! After the AFC and NFC Championships this weekend, we'll know who our contenders are. And that means fan interest in the Super Bowl and ticket prices will skyrocket. As it stands now, hotels in Atlanta for Super Bowl weekend are at a premium… if you can even get reservations!
Don't look at us, we warned you about the hotel situation in Atlanta months ago! But we're here to save the day again. If you're looking into the Super Bowl and need both tickets and accommodation when you get there, check out Fan's Super Bowl Packages. They include Super Bowl tickets and hotel rooms in Atlanta. And much, much more…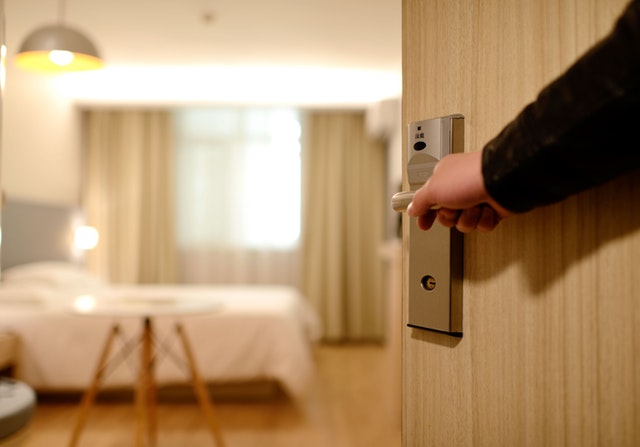 A Look at Atlanta Hotel Availability for Super Bowl Weekend
Rooms are booked up and hotel prices have already spiked and we don't even know who's playing yet. We've explained this before, but here's how it works: Though there are about 100,000 hotel rooms in the greater Metro Atlanta area and the NFL requires a large number of hotel rooms before they even award the host city with the Super Bowl each year, most of them have already been snatched up!
The NFL requires that cities have enough hotel rooms to hold at least 35% of their stadium's capacity, all located within a 60-minute drive. In Atlanta's case, that means 35% of 71,000 for a total of 24,850 rooms. (Oh, and the NFL also needs 150 of those rooms and a couple of presidential suites specifically for the players, coaches, and other team staff for eight nights.) Don't worry, the NFL reserved most of the good hotel rooms in downtown Atlanta way before now, so you never even had a chance to book, like, tens of thousands of 'em. The NFL uses these hotel rooms for its sponsors, execs, big wigs, and of course, their official On Location ticket packages.
Just to give you an idea of the pricing on what's left, here's a look at Atlanta hotel room costs on ordinary days versus Super Bowl weekend, as compared by HotelPlanner.com:


Yeah, outrageous right?! Good thing for you that even the most expensive ones are tough to get! You better start browsing in the suburbs… and be prepared to open your wallet!
If you're looking for a hotel room from the Friday to Monday of Super Bowl weekend for two adults, a quick search of Hotels.com shows that your options are limited. That's especially true if you want to be in the vicinity of Mercedes-Benz Stadium… or even, like, two miles away. There are 75 options that aren't available. And the five that are available range from $500 per night (for the Budgetel Inn & Suites) to $2,100 (for a Midtown apartment).
If you expand your search to a 10-mile radius, your options increase to 24 different hotels, apartments, or houses with prices starting at $218 (eight miles out in Smyrna) and $337 (if you catch the special deal at the Red Roof Inn in Buckhead). Even hotels as far as 25 miles out are still going for more than $300 per night. For your reference, this is what the ratio of available (green) to fully booked (red) Atlanta hotels looks like right now: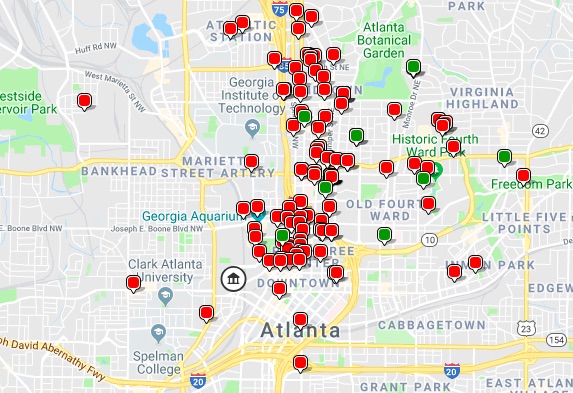 Fan Hospitality Atlanta Super Bowl Packages
We're here to help you out! Fan Hospitality has already reserved plenty of Atlanta hotel rooms and we're packaging them with Super Bowl tickets so that our customers get the best deals possible! And we're including lots of extras to make your Super Bowl weekend as fun-filled and seamless as possible! It's not just tickets and a room, it's the whole Super Bowl Fan experience!
What do our Super Bowl Ticket Packages include? You'll get all of the following:
Game Tickets (side-by-side seats guaranteed!)
Reserved Hotel Accommodations from Friday, February 1st to Monday, February 4th
Welcome Reception
Staff On-site to Assist
Roundtrip Gameday Transportation
Official Souvenirs
Credential Holder & Lanyard
Tickets to an Exclusive Pregame Party on Super Bowl Sunday
We've got packages for one, two, three, or four people. And best of all, we don't charge any additional fees!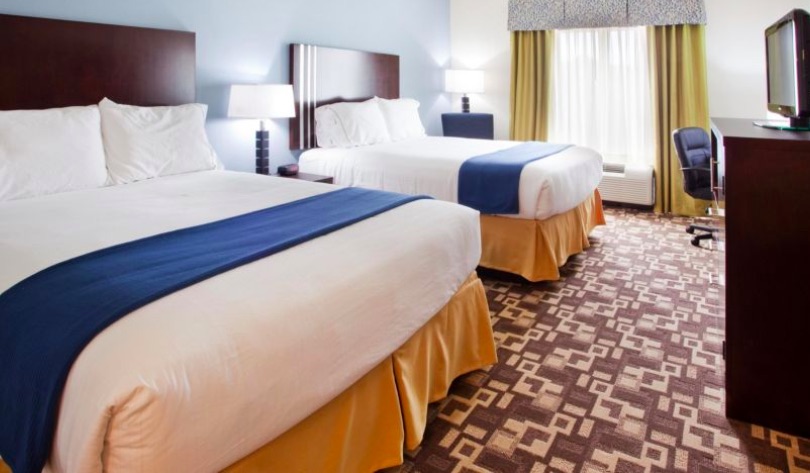 What you see is what you get. We're not hiding the ball when it comes to which hotel you'll be staying in either. We've reserved rooms at the Holiday Inn Express Camp Creek, a reputable national brand so you know you're getting quality accommodations. They provide you with a free airport shuttle service to Hartsfield-Jackson Airport, just five miles away. You'll also have access to free breakfast each day, free wifi, and an indoor pool. They're located just 12 miles from downtown, and before you say that sounds a little far, keep in mind that Fan will provide you with roundtrip gameday transport! You won't have to worry about parking! (You're welcome.)
Potentially one of the biggest perks of booking your tickets and hotel with Fan is that we've bundled in tickets to the exclusive Maxim Pregame Party featuring a top-shelf open bar, gourmet buffet, and premium entertainment, all within walking distance to Mercedes-Benz stadium! Consider this your tailgate… only way more exciting. The Maxim Experience is the perfect way to spend five hours leading up to kick-off on Super Bowl Sunday!
You'll also have the option to upgrade your tickets to better seats (or even club-level) and add on a baller Saturday night Super Bowl party for an additional fee to complete your full experience. We can tailor these packages to your taste and budget!
Read all the details and book your Super Bowl Package with Fan!
Wouldn't you like to have your whole Super Bowl Weekend taken care of? We can do that!