Super Bowl weekend in Miami is going to be busy, crowded, and exciting, but above all, it should be fun. If you want to make sure that your big game weekend goes off without a hitch, be sure to plan ahead! That means figuring out where you're going to park when you get to Hard Rock Stadium… or planning transportation to the Super Bowl so you don't have to worry about it! 
Honestly, Super Bowl parking is always pricey and a bit of a hassle. For that reason, we'd recommend that you don't do it at all! Consider purchasing one of Fan's Super Bowl Packages that include round-trip transportation to the stadium, or just get yourself to the game without a car to worry about! More ideas on how to accomplish that below… 
Shop Super Bowl Parking Passes with Fan! Don't let anything spoil your Super Bowl Sunday. Contact us and get your parking pass now to avoid stressing later!
Super Bowl Parking at Hard Rock Stadium in Miami
If you absolutely must park your car at Hard Rock Stadium on the day of the big game, we highly recommend that you go ahead and purchase your Super Bowl parking pass ahead of time. These passes tend to start at around $150 each from resellers online, but you may want to budget more if you need to be closer to Hard Rock Stadium. As of now, there aren't any confirmed shuttle routes running from the parking lots to the stadium entrance, so you'll want to plan on walking. It's not uncommon to pay hundreds of dollars for parking passes in the vicinity of the game. 
There are plenty of parking lots surrounding Hard Rock Stadium, but the NFL will be controlling nearly all of them (and adding them to their On Location ticket packages) during the Super Bowl, so it's not like you'll stumble upon an awesome space the day of. You won't even be allowed into any stadium parking lots without a pass. And FYI, official lots can be pricey – we're talking $300-ish. The good news is that tailgating isn't usually allowed in the stadium lots during the Super Bowl, so there's no need to sneak in or have too much FOMO about not parking in there!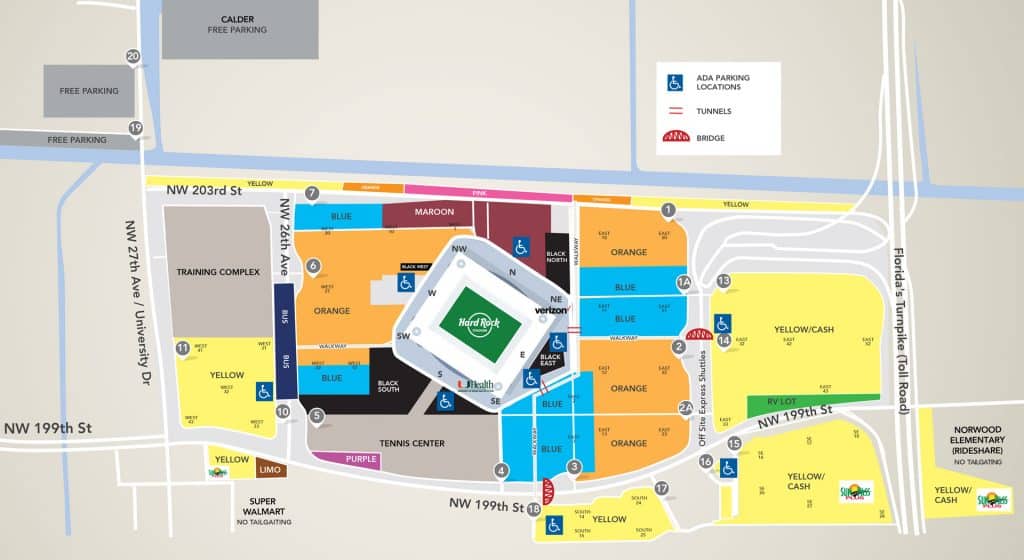 If you do purchase a parking pass in advance, lots are expected to open around noon on Super Bowl Sunday and they will close two hours after the game is over. (Just remember that if you're off celebrating somewhere nearby!)
While there's typically plenty of parking at Hard Rock Stadium, the Super Bowl is an event of much bigger proportions than your average Miami Dolphins home game! To add to the competition for parking spaces, there will be lots of people in the area who are there just to party and tailgate, even if they don't have a ticket. Expect more fans than the 65,000 that will eventually fill the stadium seats. Consider this another reason to get your parking situation figured out ahead of time!
Avoid Parking… Take Uber, Lyft, or (gasp) a Taxi!
If you haven't already opted into a Super Bowl package that includes tickets and transportation, the easiest thing you can do is use a ridesharing app. Uber and Lyft will no doubt be crazy busy on Super Bowl weekend all over South Florida, and the folks behind the big game are ready for it. There will be a designated ridesharing drop-off and pick-up point at Norwood Elementary School, located just across Florida's Turnpike. (Oh, and there's definitely no tailgating allowed here because, hey, it is a school after all!)
If you're old school and you'll be calling a taxi instead, fans can grab a cab at Gate 4 and Lot 14.
Other options? Many party people will be hiring a private driver to take them to the stadium. There are plenty of limo, car, van, and party bus services available across the region if you prefer that kind of fancy, at-your-service transportation. Miami is issuing additional for-hire licenses for limos and luxury sedans to ensure there's enough supply for its Super Bowl visitors.
Jump on the Express Shuttle or Miami Public Transit
Express Shuttles will also be available from Hard Rock Stadium, picking up fans in Lot 14 and dropping them off on Biscayne Boulevard in Miami, Andrews Avenue and Las Olas in Fort Lauderdale, and the Shops of Pembroke Gardens in Pembroke Pines. These shuttles usually cost $10 per person for Dolphins games, but stay tuned to see if they change things up for the Super Bowl.
Miami-Dade Public Transit will likely run additional routes, trains, and buses to transport fans from the city and beach areas up to Hard Rock Stadium. (Stay tuned for news and updates via their official website.) The usual route for arriving at Dolphins home games is as follows: Take the Metrorail from the city or beach up to the Earlington Heights Station and then transfer to Metrobus Route 297 which drops you off right at the stadium. The Route 297 Metrobus will also pick you up at Brownsville and Dr. Martin Luther King Jr. Metrorail Stations.
To help plan your Super Bowl weekend, read our blog post on how to use Miami Public Transportation. You can also browse a breakdown of Miami Neighborhoods or read all about Things to Do in Miami for Super Bowl Week.
Shop Super Bowl Packages with Fan! They include round-trip transportation from Miami to Hard Rock Stadium on Sunday! Or contact us for more details on how you can purchase a parking pass add-on!
How are you planning on getting to the Super Bowl?