We wrote about Costco last year when they started offering unbelievable deals on Super Bowl Ticket Packages. Well, they're doing it again!
No, tickets to the biggest sporting event of the year aren't necessarily the first thing that come to mind when you think of Costco. After all, it's the same place you buy all your groceries, toilet paper, water, and mayo in bulk. But Costco has since dipped its toe into vacation deals that include hotels, rental cars, cruises, and all-inclusive packages before. So obviously Super Bowl tickets were the logical next step!
Costco has partnered with NFL On Location Experiences, the official hospitality partner of the NFL, to sell a limited number of these special Super Bowl packages. (Remember the other On Location packages we reviewed?) As it turns out, there are some major perks for being a Costco member because this particular deal is only for Costco members who are also Visa cardholders. While supplies last, of course.
Costco's Super Bowl Ticket Package
So what does the Costco Super Bowl Package include? For $13,499.99, you'll get one NFL On Location Package to Super Bowl LIII which includes tickets and hospitality perks. That means you receive the following with your purchase:
Two (2) Super Bowl LIII Tickets

Three (3) Nights Hotel Accommodations in Atlanta for February 1st – 4th

A Visa Interactive Football Clinic with NFL Athletes

Two (2) $2,500 Costco Cash Cards
You can see the full details of the deal here.
Exact seats and hotels weren't available at the time of sale, and we're not sure if the two seats were guaranteed next to each other. Tickets were not eligible for return or refund.
These Costco Super Bowl Packages went on sale at the end of November, but they look like they're no longer available, at least according to Costco's website. And considering when you click their Facebook post, their website says "Showing results for 'sugar bowl'," we're guessing these deals have sold out! But you can still shop Fan's Super Bowl Packages.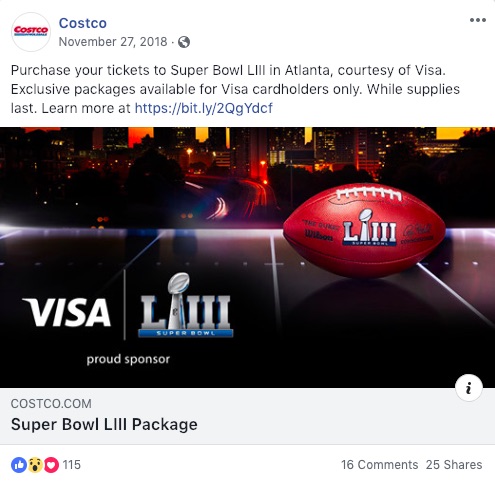 From what we can gather, these Super Bowl tickets were located in the lower-level endzone. Previously, Costco was also offering sideline seats for $18,999 but that package is likely sold out as the link no longer works.
Hope someone grabbed these why they lasted!
So how good of a deal was it? Prices for comparable lower level endzone tickets to the Super Bowl are currently hovering between $4,500 and $6,500. Hotel rooms in Atlanta (those you can still find anyway) for February 1st through 4th are totally overpriced at around $350 per night, and that's for a place out in the suburbs! Without even adding in the value of the Interactive Football Clinic by Visa, we can already declare that this was a good deal, especially considering you also get $5,000 worth of Costco Cash Cards with this package. It's a savings of at least $1,500 even if Costco were to give you the cheapest tickets possible in the lower level endzone.
Looking for a Great Value Super Bowl Package?
Lucky for you, you can still find solid deals on Super Bowl Packages and tickets here on Fan! We've got similar Super Bowl packages for two that include two Super Bowl tickets, hotel accommodations for three nights, a pregame party, reception party, roundtrip transport to the game, and an official Super Bowl 53 souvenir bag. All for $12,400! All of our tickets purchased together are guaranteed to be seated together and you'll know where your hotel is located ahead of time! And of course, there are no additional fees.
Check out all of our Super Bowl packages here.
Would you consider buying Super Bowl tickets at Costco?