According to 24/7 Wall Street, with an average resale price of $5,622.50, tickets for the 2015 Super Bowl were the most expensive in history.
The 2015 Super Bowl was out of the ordinary, in that the prices of tickets on the resale market continued to rise right the way up to game day.
According to statistics that were released by the two most popular resale sites, StubHub and the NFL Ticket Exchange, the sky-high prices could be attributed to the fact that, unlike previous years, the ticket prices continued to increase in the days immediately before the game, with the average price for a resale ticket being $4,500 on the Thursday and $7,000 the day before.
In previous years, prices had actually started to drop in the week immediately before the game. However, in the case of the 2015 Super Bowl, this didn't happen, and the spiraling ticket prices left the brokers, who sell tickets before they have them in hand, with a major problem: They didn't have enough tickets on hand to meet demand. Many of them were later forced to buy the tickets and sell them at a loss or refund dissapointed clients.
While StubHub and the NFL Ticket Exchange went to great efforts to ensure that disappointed disappointed, Vivid Seats chose to refund people who had bought tickets with a 200 percent refund per ticket. However, in most cases, this wasn't enough for them to secure a seat in the stadium because the price of tickets had soared beyond that level.
2015 Super Bowl Ticket Prices
The face value of tickets for the 2015 Super Bowl ranged from $800 to $1,900.
The 70,288 tickets that were initially released for the 2015 game between the Seahawks and the Patriots had originally been distributed according to the following equation: 17.5% each to the competing teams, 5% to the team of the host city (Glendale, Arizona), 34.8% split between the remaining teams in the league, and the remaining 25.2% to members of the media, fans, and NFL sponsors.
Spectators paid some big bucks to see the 2015 Super Bowl in person. The highest priced tickets that were for seats in the lower center of the stadium were listed for around $17,800 each, while the cheap seats were available from $1,857. Those with serious cash to splash spent between $726,000 and $1,000,000 on luxury suites.
Of all the tickets available on NFL Ticket Exchange the week before the 2015 Super Bowl final, just 38 were under $9,000. By that point, the prices had climbed so high that the majority of fans no longer had any chance whatsoever of grabbing a seat at the game.
2015 Super Bowl Ticket Price Summary
Host Stadium:  University of Phoenix Stadium, Glendale, Ariz.
Face Value: $1,350
Average Price: $5,622.50
Lowest Price: $1,857
Minimum resale: $3,837
Most Expensive: $17,800
Average thirty-second Super Bowl advertising spot: $4,500,000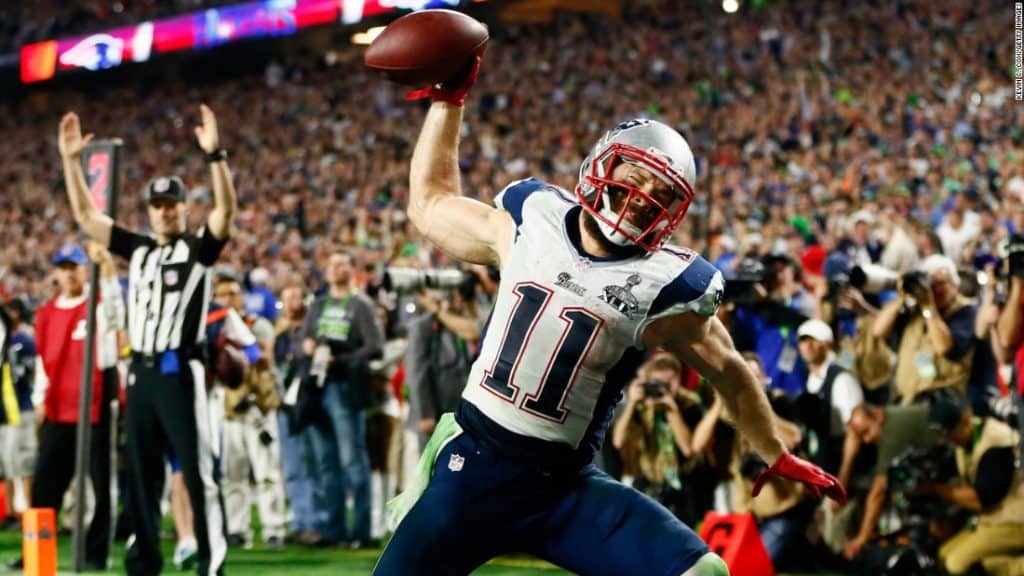 Image via CNN