Ahead of Super Bowl 2014, the tickets for the game spiraled out of control, which came as no major surprise in light of the fact that the game was hosted in New York, an area in which people are accustomed to shelling out big bucks for entertainment.
However, in advance of the game, some ticketing experts had predicted that the fact that the game was going to be paid in a cold-weather city in an open-air stadium may put a dampener on ticket prices, with many members of the general public not being prepared to brave the elements; however, as it transpired, that was not an issue.
Prices varied from reseller to reseller, but StubHub disclosed that the cheapest tickets they had sold in the lead up to Super Bowl 2014 were $2500 each, while luxury suites attracted sales prices in the millions!
The 82,529 tickets that were initially released for the 2014 game between the Denver Broncos and the Seattle Seahawks had originally been distributed according to the following equation: 17.5% each to the competing teams, 5% to the team of the host city (New Jersey), 34.8% split between the remaining teams in the league, and the remaining 25.2% to members of the media, fans, and NFL sponsors.
This year's ticket face value was the highest in the history of the Super Bowl, at $1250 per ticket.
Following the slump in ticket prices that had been observed on the secondary market in 2013, Super Bowl tickets in 2014 increased by around 40%. However, interestingly, the average price per ticket of $2,754 was slightly below that of the previous year of $2801.50.
2014 Super Bowl Ticket Prices
According to 24/7 Wall Street, with an average resale price of $2,754.24, tickets for the 2014 Super Bowl were the 7th most expensive in history.
The least expensive tickets went for $2,100 and were located in the Upper End Zone 1, while the most expensive tickets on the resale market were those that were located in the Lower Prime Section, one of which was sold for $10,557.
According to Forbes, StubHub saw a 33% increase in sales of tickets on the secondary market in comparison to the previous year. Furthermore, the location of the buyers was pretty evenly matched, with 16% coming from the New York, 16% from Washington, and 12% from New Jersey.
Although the resale prices on the secondary market hit record highs, in the days immediately before the game, they took a nosedive, with some tickets falling in value by up to 50% to a low of around $1150, which was below the face value price.
2014 Super Bowl Ticket Price Summary
Host Stadium: MetLife Stadium, East Rutherford, N.J.
Face Value: $1250
Average Price:  $2,754.24
Lowest Price: $1,100
Lowest Resale Price: $1150
Most Expensive: $10,557 (Lower Prime Section)
Average thirty-second Super Bowl advertising spot: $4,250,000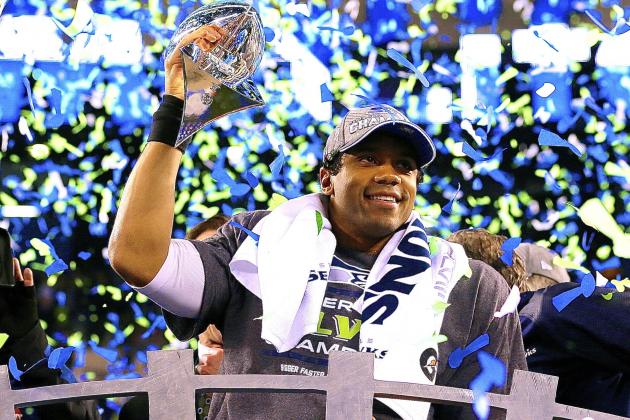 Image via Bleacher Report