According to 24/7 Wall Street, with an average resale price of $3,664.1, tickets for the 2012 Super Bowl were the 4th most expensive in history.
However, at the time, experts claimed that the tickets would have reached even higher levels had it not been for the location of the game. With significantly fewer hotel rooms than the Dallas-Forth Worth area, much cooler weather, and an area that is relatively difficult to travel to, Indianapolis was never going to lure as many visitors as previous Super Bowls.
By the week before the big game, all 13,000 Hotel rooms in Indianapolis were booked for the weekend, and some had secured a 1,700% higher rack rate than the conventional fee.
Hotel rates were not the only prices that escalated beyond control in the run-up to the game; ticket prices were also escalating above all previous records.
2012 Super Bowl Ticket Prices
In the weeks before the big game, StubHub reported a median ticket price of $2,800 USD per ticket for tickets on the secondary market. Ticket Exchange, however, had a much higher price of $3,623 median per ticket. Both were slightly below the median secondary ticket prices for the 2011 Super Bowl.
The cheapest ticket to be sold on the secondary market was for a seat positioned in Section 422 of the upper corner of the stadium, which was sold for $2,614, while the most expensive ticket was a seat on the 40-yard line, which was sold for a massive $17,048 (IACI). One corporate client paid $605,898 for an entire luxury suite.
The 68,000 tickets that were initially released for the 2012 game between the Patriots (AFC team) and the Giants (NFC team) had been reserved for the competing teams (17.5% each), the host city, the remaining teams in the league, and the media, NFL sponsors, and fans. However, as is now customary, within days of being released, the tickets became available for the sale on the secondary market at a much-inflated price over the $800 and $1200 face value.
However, in a similar story to that observed in previous years, in the six days before the Super Bowl, the average price for tickets on the secondary market dropped 15 percent, and 6.6 percent on the Thursday and Friday.
2012 Super Bowl Ticket Price Summary
Host Stadium:  Lucas Oil Stadium, Indianapolis
Face Value: $900 ($800 and $1200)
Inflation-adjusted face value price (2017): $928
Average Price: $3,664.1
Lowest Price: $2,614
Minimum resale: $2,183
Most Expensive: $17.048
Average thirty-second Super Bowl advertising spot: $3,800,000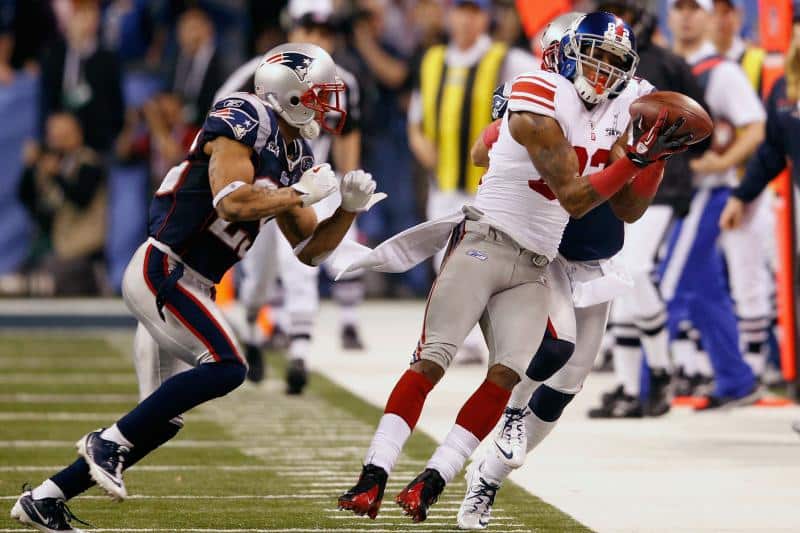 Image via Bleacher Report