We've already discussed your hotel options for the 2020 Super Bowl in Miami, but as we all know, it's not all about hotels these days! Airbnb has really stepped in to help guests who might not have the budget to afford a hotel room on this pricey weekend – particularly after splurging on Super Bowl tickets! Luckily, there are still apartments, condos, houses, and even shared accommodation available in Miami for the weekend of the big game!
Just need a cheap place to rest your head for a few nights? A private room might be perfect for you. On the other end of the spectrum, if you're looking to splash out and rent a ballin' South Beach apartment for a long weekend, you can go high-end as well! Here's a look at a few Miami Airbnbs that are still available for Super Bowl weekend!
Don't feel like searching for accommodation? Shop Fan Hospitality's Super Bowl Packages! They include a hotel room for four nights, tickets to the big game, roundtrip transportation, and more!
As background, we searched for places with room for two adults from Friday, January 31st to Monday, February 3rd – that gives you three nights over Super Bowl weekend, but you may want to book more! The average nightly price for a private room in Miami on these dates is only $99 right now, which is quite a good deal. But if you want an entire place to yourself, the average nightly price is $517, a pretty big jump. For all types of accommodation on Airbnb, the average price is still around $390, but prices are truly all over the board. It just depends what you're looking for! 
The good news is, while tons of people are looking at these dates on Airbnb, there are over 300+ rentals still available in the city neighborhoods as well as the beach. Keep in mind that it's possible some hosts have forgotten (or don't know) that it's Super Bowl weekend and they haven't raised their prices to reflect that yet – so now's the time to jump on it if you want to score a deal!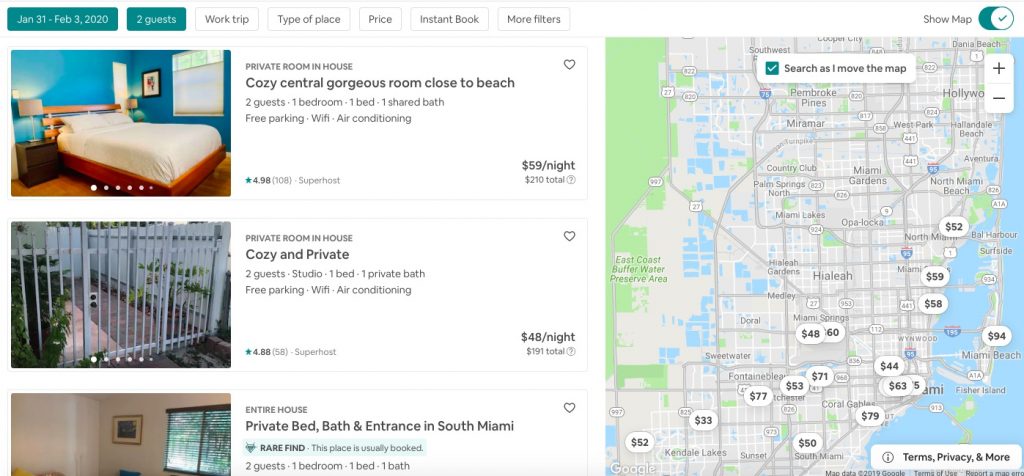 Great Deals in Miami
There are actually a lot of cheap apartments remaining in the city of Miami for Super Bowl weekend, particularly if you're splitting the price with a friend or two. You can still get an entire apartment in Little Havana with great reviews for $69 per night plus taxes and fees. That's a total of $299 for your whole Super Bowl weekend's accommodation! (Pretty much a steal.) This one-bedroom apartment in Little Havana is going for just $75 per night and it has great reviews as well. Another studio a little closer to downtown is only $347 for the whole weekend! This is a great area to stay in if you're looking to explore Miami's Latin culture, but don't forget that you can always take Miami public transportation or grab an Uber to get all over the city.
Even if you're trying to stay on Miami Beach, where prices are a little higher, you can still snag a studio apartment for $150 ish per night (and some for even cheaper). So yes, it's possible to stay in the glitzy South Beach area on a budget. Some apartments are cozy and basic, while others are, well, cozy and stylish – check out this one and this one and this one. If you do a thorough search, you'll find that there are a good amount of smaller apartments near the beach in the $120 to $150 range. This is a great option if it's just you and a friend or significant other – particularly if you guys don't require anything too snazzy. These little apartments are the perfect way to save on Super Bowl accommodation while still incorporating a beach vacay into your stay!
Downtown Miami, Brickell & Wynwood
Downtown Miami is looking a little more booked up. (But it's a place that tourists often miss entirely when they visit so it's possible that offerings were limited to begin with.) If you want your own apartment in the downtown area, it'll run you close to $300 per night. Some of them are are pretty luxurious though, so it might be worth it! Check out this place for $287 per night or this one in Brickell for a little less at $235 – it's on the 40th floor! There are still some cheaper options too if you dig a little deeper. For instance, you can get your own place in a modern downtown building for just $130 per night. 
Looking for a private room downtown? That's one way to decrease costs. You can have your own room in Brickell for $89 per night or $347 total (and you get to use building amenities like the gym). There's another for just $70 a night that comes with free parking. 
If you wanted to stay up in the hip neighborhoods of Wynwood or places just outside the Design District, you'll pay a little less for your own space, and there are still some great deals to be had. There are studio apartments for under $200 per night, a whole (very cute) pink house for $253 per night, and beautiful, light-filled apartments for four for $126 per night. For a place located right at the entrance to all that Wynwood has to offer, you're looking at $185 per night. If you've got a group of people, this apartment in the heart of the neighborhood can hold seven of you for $230 per night – and it has fab reviews. There's still quite a good selection in this area!
South Beach Splurges
If you've got a few friends heading down to Miami with you for the big game and you want to make this a glamorous beach vacation, you can certainly do that! There's still lots of luxe beach accommodation available on Airbnb for Super Bowl weekend. While the average price in this area is upwards of $1,000 per night, there are some amazing properties available for bigger groups or higher-end budgets. You can rent whole villas, condos, and apartments with lavish outdoor spaces.
Sure, this Colors of South Beach villa with a pool and five bedrooms is pricey at $10,000 for the weekend, but the host says it holds over 16 guests, sooo… doable right? And this stylish little bayside bungalow can hold eight people for $2,600. Not so bad when you think about splitting it. Or maybe you'd like to rent out this sleek South of Fifth apartment for six guests with its own outdoor pool for just under $7,000?
Even fancy hotels are getting in on the action. You can rent this private two-room apartment for seven people at the Mondrian South Beach – and you'll still get access to the hotel pool (with a DJ every weekend), gym, and a fully equipped kitchen of your own.
Not too far away on the Venetian Islands are some even more over-the-top spots, like Villa Tarka and Villa Leo with price tags in the $8,000 to $10,000 per night range. They are insanely plush and they'll hold 16+ guests if that's what you're looking for!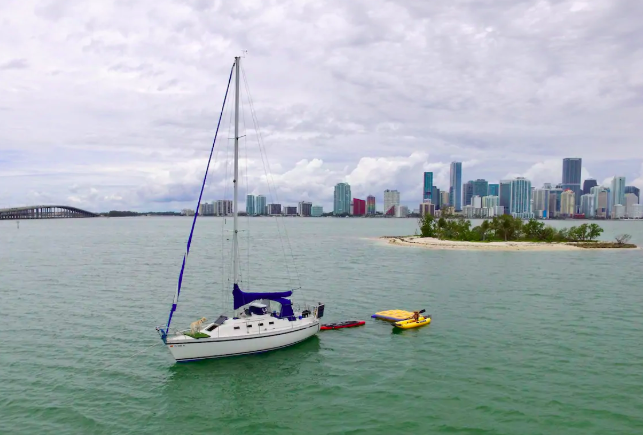 Wanna Stay on a Sailboat?
You can! Hey, you're not in Miami often right? Get a taste of that nautical life and spend the night on a boat. There are actually a few sailboats available for rent on Airbnb. We found this one and this one available for Super Bowl weekend. Some hosts will take you out on the water as well. Reviews have described their stays both as "glamping on a boat" and like a "naked and afraid" experience, so choose wisely! Some of them even come with water toys!
Seriously, while Miami hotels are going quickly (or have already gone) for the Super Bowl, there is still a lot left on Airbnb for all sorts of budgets! Just be patient and persistent in your search, and be sure to define the neighborhood, number of guests, your price range, and any amenities you definitely require (pool, wifi, etc.) for your stay, and you're sure to find something. Especially if you act soon! Good luck!
Still need somewhere to stay for the Super Bowl? Shop Fan Hospitality's Super Bowl Packages which include your hotel for four nights, tickets, and round-trip transportation to the stadium, plus extras!
Do you ever use Airbnb for big events like this?