If you're thinking of heading to the Super Bowl next year, chances are you've already done a bit of planning. If not, you need to get on it! As usual, hotel rooms are going fast and prices are spiking for the weekend of the NFL's main event. Luckily, Miami has played host to the Super Bowl ten times already, and they're a vacation destination with tons of hotels. There are plenty of neighborhoods as well as neighboring towns where you can choose to stay during the weekend of the big game. We'll try to give you a breakdown of Miami hotels for the Super Bowl, including price ranges and where to book.
Super Bowl Hotel Basics
First off, go ahead and get it in your head that you'll likely be paying a high price for your room so that you don't get sticker shock when you start researching! Yes, even for those rooms that are far from the stadium or the beach, be prepared for doubled or tripled prices. Second, Hard Rock Stadium (where the big game will take place) is located in Miami Gardens, which is north of the city itself – and kind of in the middle of nowhere, so you may not even want to stay nearby!
This year's Super Bowl isn't like Atlanta, where the stadium is smack in the middle of downtown and close to lots of touristy sights. Depending on where you want to stay and your plans for the weekend (clubbing, beaching, family-friendly vacay activities), you could choose hotels in Miami Beach, Fort Lauderdale, or even as far north as Boca Raton.
If you DO still want to be near the stadium, you could choose more suburban areas – like Pembroke Pines and Miramar – but there may not be a beach close by and there will definitely be fewer accommodation options. The farther out you go, the cheaper the hotels will be, of course. But keep in mind that while public transport options do technically exist, they aren't great – and they aren't nearly as convenient or quick as grabbing an Uber. (But you'll also need to plan for surge pricing on all those ridesharing apps during this busy weekend.) Keep all these considerations in mind as you pick where you want to stay for the Super Bowl.
The Thing About Super Bowl Hotel Availability
As we've discussed before, many hotels rooms in Super Bowl host cities will already be booked up by the NFL. These rooms go to teams, NFL staff, media, executives, sponsors, big corporations, and official ticket packages with NFL on Location. About 15,000 rooms are under contract with the NFL this year for the official room block, with 12,500 of those in Miami-Dade County and the other 3,000 in Broward and Palm Beach Counties. You never even had a chance of getting them, so let's take a look at what's left!
Below are just a few ideas for Super Bowl hotels in and around Miami. We'll be focusing on hotel availability from Friday, January 31st through Monday, February 3rd. That gives you three nights, which is the absolute minimum you'll need to enjoy yourself for the Super Bowl! Feel free to book more days to fully soak in the beach and everything else that the surrounding areas have to offer! Miami is a great spot for a winter getaway and lots of folks will turn this week(end) into a full-on vacation.
If you're not into the hassle and stress of researching hotels, check out Fan Hospitality's Super Bowl Packages which include your tickets, hotel room for four nights, round-trip transportation to the big game, and more!
Miami Hotels for the Super Bowl
Miami is the host city, so this is where you'll find most of the official NFL pre-game events, including concerts, fan zones, and more. If you want to be at the center of the action – and say, hit South Beach while you're there – consider staying in places like Downtown Miami, Miami Beach, Midtown, or Coconut Grove.
These will likely be the most expensive hotel options for Super Bowl Weekend, but you'll also have the most selection here. Booking.com says that hotels in the Miami area are currently 78% booked for these dates while Hotels.com says it's more like 73%. The good news is that there are still some left! The majority of those hotels are going to run you upwards of $220 a night with many falling closer to the $300 to $350+ per night range. Lots of hotels have nightly rates well into the thousands, while some penthouse suites have exponentially increased rates, like the one at 1 Hotel South Beach that's going for an extortionate $119,000 per night!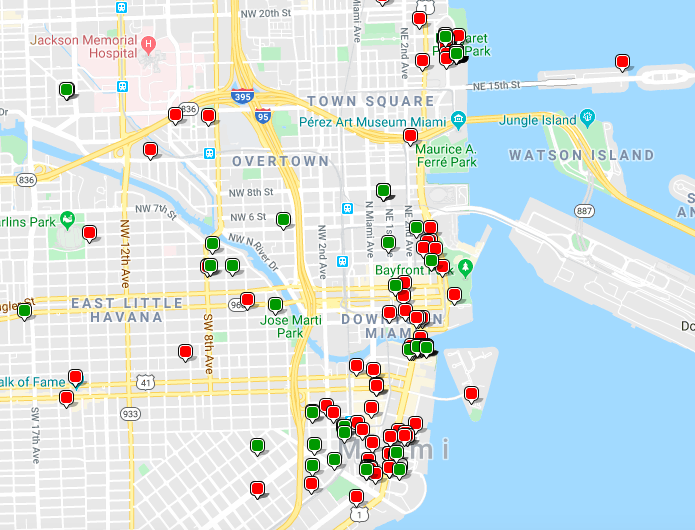 As you're searching, if the price seems too good to be true, be sure to do a little more inspecting. A few of these options are hostels where you'll be sharing a room with strangers – but if you don't mind that, you could get your Super Bowl accommodation at a steal! We're talking $20 to $30 a night for a dorm bed. The next cheapest options on these booking sites tend to be small efficiency apartments and boutique hotels, which you could be lucky enough to book for around $100 to $200 a night. Some of these are located in Coral Gables and the MiMo district. Other hotels on the beach you can still snag for $500 to $600 a night, but take care to look at the reviews!
In the grand scheme of things, considering it's almost November, there are still a fair amount of hotels and apartments left in Miami for Super Bowl weekend. Whether you want to be downtown or on the beach, you're bound to find something. The bad news is that – if you don't hurry – it may be tough to find something in your price range!
Fort Lauderdale Hotels for the Super Bowl
No, it's not Miami, but if you stay in Fort Lauderdale, you'll still have the beach, bars, restaurants, and things to do relatively close by. It's also a very family-friendly city. However, rooms here are also going quickly – this city's rooms are about 72 to 78% reserved already, according to online booking sites. Even basic hotel chains like the Days Inn by the airport are going for $300 to $400 per night. Luckily, if you're considering Fort Lauderdale, you can still find the odd hotel located on the beach for about $300 per night as well. During our research, we saw availability at places like Plunge Beach Resort and the Green Island Inn.
Close to the Stadium: Miramar, Pembroke Pines, Hollywood
As we mentioned, there's really no need to stay super close to Hard Rock Stadium, but if you're truly just here for the football, you have a car, or you don't mind Uber-ing to the beach and other tourist destinations, you can stay in areas like Miramar and Pembroke Pines. Unfortunately, there are only a handful of hotels in these locations, and you won't actually be saving much money because they're all priced at nightly rates of $300 or more, similar to Miami and Fort Lauderdale.
For that amount, you'll want to stay near the beach! Nearby Hollywood still has a few options left – like the Stay Inn for $178 per night – though there aren't nearly as many choices here as there are to the north and south.
Boca Raton Hotels for the Super Bowl
It'll be a longer drive, but Boca Raton still has some hotel rooms left for the Super Bowl if you're prepared to make that journey to the stadium. It's a 34-mile drive, but hotels here are only about half full at the moment. From the super luxe Waldorf Astoria ($1,792 per night) to the Best Western ($182 per night), there are a range of options available no matter your price range. You can still score hotels that are walkable to the beach, like the Ocean Lodge, for under $300 per night.
---
If you still need a hotel for Super Bowl weekend, you'll want to book soon! Remember that booking directly with the hotel can sometimes get you a lower price. And don't forget about Airbnb either!
Better yet, don't worry about any of this and choose one of our Fan Hospitality Super Bowl Packages and we'll take care of it all for you – hotel room, tickets, transport, pre-game party, everything! Take a look at our package options!
Where would you want to stay for the Super Bowl?