Well, there goes that idea.
The popular traveling Club Nomadic is no more. At least for Super Bowl 52 purposes. The giant pop-up venue that housed that epic Taylor Swift performance last year isn't going to be happening this year.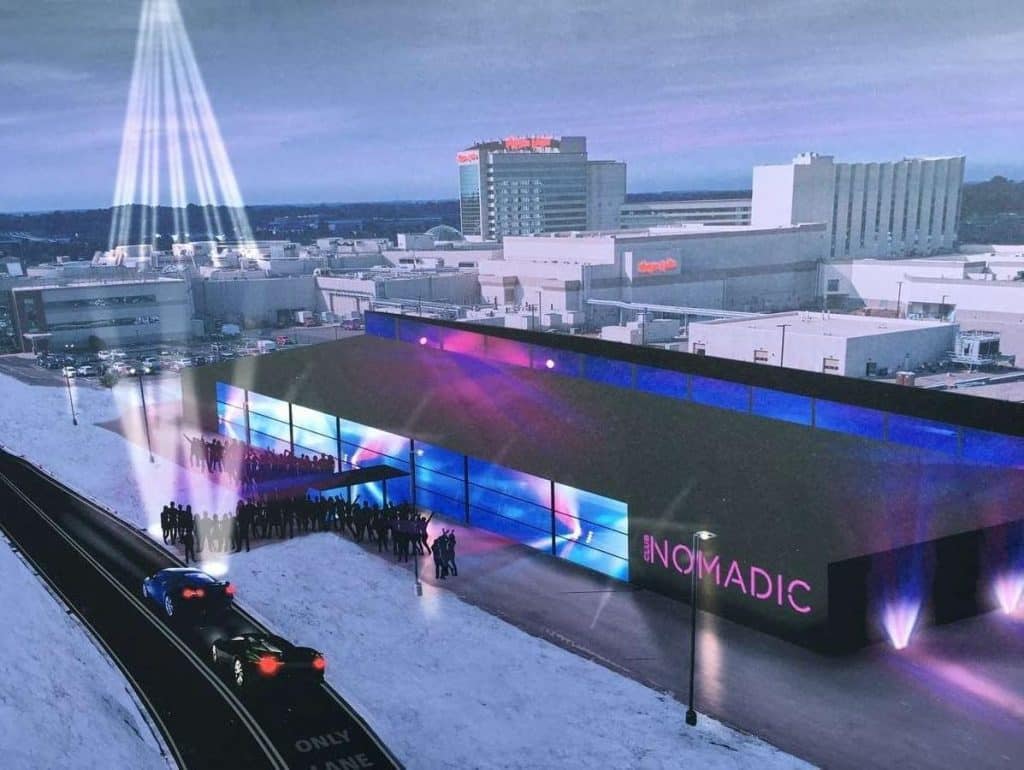 No, it appears we won't be seeing another appearance by "the world-famous traveling nightlife experience that served as the epicenter of entertainment last year in Houston."
It's canceled. So what happened?
Club Nomadic was set to go up in the parking lot of Mystic Lake Casino just outside of Minneapolis. It was going to host pre-Super Bowl performances by the Chainsmokers, Kygo, Florida-Georgia Line, and Gwen Stefani which were scheduled to take place between February 1st and 4th.
Now those concerts will be moved inside the casino's Mystic Lake Center and the Mystic Showroom.
Why? Well, it's hard to tell. Here's the statement from Friday's press release:
"Unfortunately, as the event approached, we determined that it would be impossible to ensure an event that is up to our standards of quality," according to a spokesperson for the Shakopee Mdewakanton Sioux Community, the casino owner.
Anything else? Any other information?
Not really. Except the spokesperson also said, "We are disappointed to have to make the decision to cancel Club Nomadic at Mystic Lake."
That's it.
These events have been on the books since September when Mystic Lake Casino announced that construction would commence on the 64,000-square-foot temporary venue. Planning and delivery of the mobile Club Nomadic was headed up by Nomadic Entertainment Group, an official hospitality partner of the NFL, by the way. But that's not happening anymore.
The group said, "We are disappointed Mystic Lake is choosing to not deliver the Club Nomadic experience to the people of the Twin Cities."
Hmm…
One thing though, guys. Club Nomadic was supposed to be pretty massive. If all went according to plan – which it obviously did not – the venue was set to hold up to 9,500 concertgoers. But the largest space in Mystic Lake Center only has a capacity of 2,272, while Mystic Lake Showroom can only hold 2,100 people. We're not sure how event planners are going to handle that minor detail.
Unless maybe they didn't sell that many tickets..?
Another thing. Ellie Goulding was also supposed to perform at Club Nomadic on February 2nd with Kygo, but there's no word on when and if that show will be rescheduled. The press release only mentions that more information would be "forthcoming." Guess we'll see…
Tickets to these shows originally went on sale for $200 for general admission and $475-750 for VIP.
According to the Better Business Bureau, any ticket holders who are unsure what to do should call Mystic Lake Casino as soon as possible.
A hyped-up international traveling nightclub experience does seem a far cry from a hotel performance center, but what do we know? Apparently, the permits for Houston's version of Club Nomadic didn't come through until 6 hours before doors opened. Maybe that's just their style. Maybe they like living on the edge. Maybe Mystic Lake Casino just couldn't deal with that.
Maybe we'll never know.
Mystic Lake Casino itself actually had to hustle to finish their construction of the new Mystic Lake Center and 180 additional hotel rooms in time for the Super Bowl. They've been selling these rooms since early 2017, and they just officially opened last week. At the time, construction on Club Nomadic was still ongoing.
Nomadic Entertainment Group is also in charge of renovations at the Armory which will host performances by Jennifer Lopez, Pink, and Imagine Dragons, but they won't be affected by this change in plans.