Minneapolis is a city of lakes, breweries, sports, great food, and frigid temps. If you're visiting for the Super Bowl, you'll want to make time for all of that. You can walk along the Mississippi, taste lots of craft beers, eat excellent modern Midwestern cuisine, and explore the history of the "Mill City" while you're here. And now that you've learned your way around using the Skyway, the world is your oyster! (Speaking of, there are several oyster happy hour deals in the city too.) Here are some of the best places to see, eat, and drink: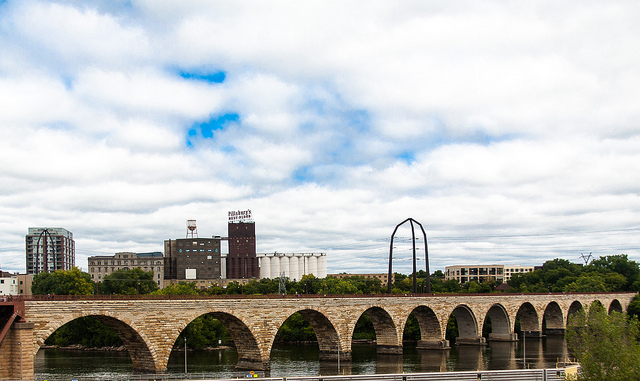 Sights to See in Minneapolis
To be honest, there's not a ton in the way of Minneapolis tourist attractions. Sure they've got plenty of lakes to visit outside the city, but you won't be braving the February weather for that. We're gonna assume you'll be staying at least reasonably close to downtown and the stadium while you're here for the Super Bowl. So if you want to see the historic and beautiful sites of the city, we've got you covered:
We're not sure how crazy the weather will be, but the best way to see the most scenic side of the city is on foot via the River Parkway. It's not hard to do a self-guided tour either, assuming it's not blizzarding outside. Be sure to check out out the Stone Arch Bridge while you walk along the Mississippi River. It was built to bring wheat from the nearby valley into the Mill City back in the day. It's also pedestrian and bicycle-friendly (no cars), so you can wander along and stop for viewpoints of the Falls of St. Anthony. Though it's not an amazing waterfall, its power was previously harnessed to turn the stone mills of Minneapolis's flour industry.
Nearby you'll also see the Guthrie Theater, a massive modern masterpiece of a building. If it's your thing and you have time, you can even see a show there to appreciate its incredible facilities at great prices. Or you can just pop in to take photos from the lobby "bridge" which cantilevers out over the city (don't worry, lots of visitors do this). Nearby you'll also find Gold Medal Park with a few huge art installations stationed throughout.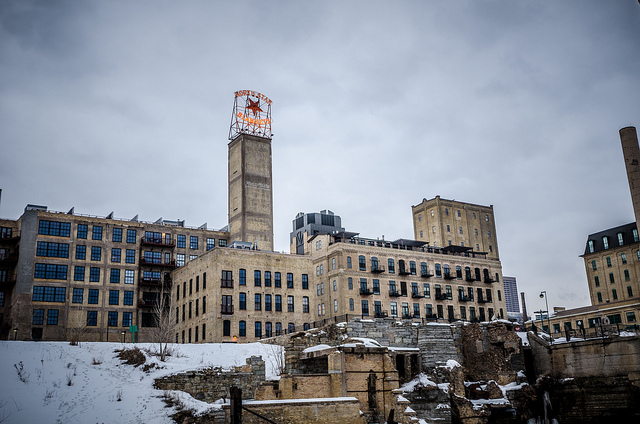 On the other side of the theater, you'll find Mill Ruins Park – the site of an enormous fire which almost destroyed Washburn A Mill – and close by, you'll find the Mill City Museum to tell you all about it. Yeah okay, it sounds boring, but it's actually very well done. The museum is a great place to learn how the Twin Cities came to be and hear about history of the flour mills.
If you're more into art, you can venture just south of downtown to the acclaimed Minneapolis Institute of Art, which houses everything from works by the European masters to contemporary art to an ancient mummy. Oh, and entry is free! The Minneapolis Sculpture Garden is about a thirty-minute walk from there, where you can take photos with things giant modern sculptures (like a big blue rooster and huge spoon holding a cherry).
For nature lovers not frightened off by the possibility of freezing temperatures and snow, there's Minnehaha Park. It's a great spot right next to the city for hiking, sightseeing, and an excellent photo op of some waterfalls – hey, they look really cool when they freeze! Take the light rail or bike down to this sprawling, well-kept park. You can walk one of the many trails down to the Mississippi River or stop by the Sea Salt Eatery located within the park – it's one of the best places in town to try some seafood.
After you've checked out all the major "tourist" sites (or not), wander around the city's Warehouse District and North Loop neighborhoods for a look at the "cool" area of the city. It's been restored and now boasts a young startup vibe with lots of new hip restaurants, bars, and live music all over.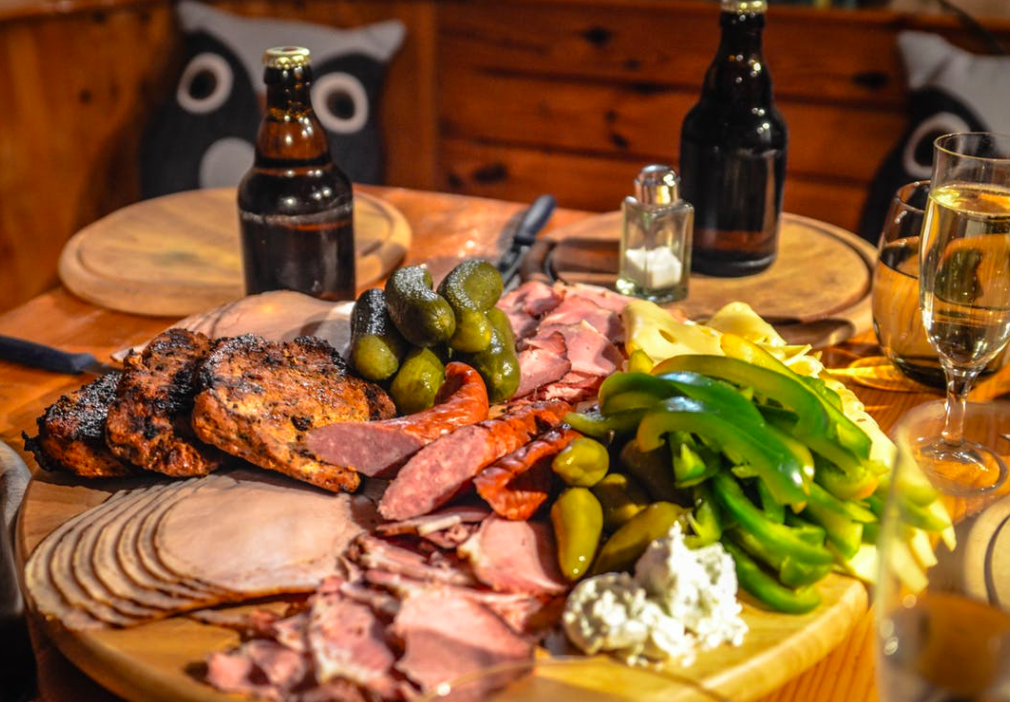 Places to Eat in Minneapolis
There are plenty of restaurants in this Midwestern metropolis, ranging from chic upscale kitchens to basic pub fare you devour with a draft beer while basking in neon lights. We'll give you a few of the best from each category and in between:
Starting with the hip, hard-to-get-a-reservation spots, book at table at Spoon and Stable in the trendy North Loop neighborhood. It's got a James Beard Award-winning chef serving up Midwestern ingredients prepared with French techniques. The place is a former carriage house actually, and even if you can't get a res, you can go have bar snacks and drinks in their lounge. In that same category, literally right across the street you'll find The Bachelor Farmer. It's got super seasonal food and Nordic inspiration served up in an always-busy, highly acclaimed restaurant. For something similarly refined, local, and "New American," check out Restaurant Alma on the other side of the river or the eclectic 112 Eatery just nearby.
Don't worry, Minneapolis hasn't totally neglected its "meat and potatoes" roots either. So if you're looking to treat yourself to a meal at an all-American steakhouse, there's no shortage of those. Murray's is a popular place known for their red meat and "butter knife steak." Plus it's been around since 1946 and still retains its awesomely retro neon sign. Capital Grille has to be listed here because it's #1 on TripAdvisor and serves fancy cuts of meat and seafood, like a 24-ounce Porterhouse and butter-poached lobster tails. For both steaks and locally-made sausages as well as a charcuterie board boasting things like boar and elk, visit Butcher & the Boar for their meat-centric menu, beer garden, and bourbon selection.
For something a little different, hit Hell's Kitchen, a highly recommended restaurant downtown that crowds flock to for "quirky" American food, like deviled eggs with candied bacon, a Walleye BLT, and something called the Hellburger. Plus they have a big brunch menu and an outrageous bloody mary bar. If you want to try a Midwestern classic, however, head to Matt's Bar, the place for a Jucy Lucy, the iconic burger with molten cheese-filled meat patties. It's cash-only, crowded, and a bit of a dive bar, but it serves up solid beer and burgers, so what more do you want?
If you're from a tiny town and this is your escape to the big city, maybe you're looking for a bit of international flare. For unique thin-crust pizza, people rave about Pizzeria Lola, though it's a bit out of downtown. Zen Box Izakaya serves Japanese comfort food in a small space, with choices like ramen, short ribs, fried chicken, and sashimi. For big city Italian food, check out Bar La Grassa for the classics and Zelo for contemporary.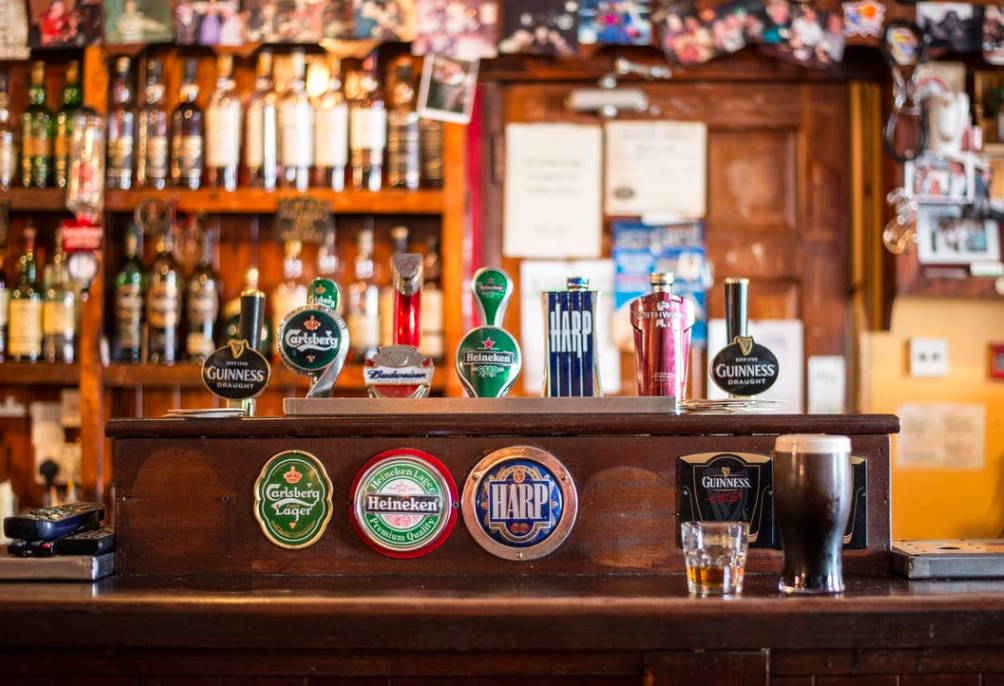 Where to Drink in Minneapolis
If you just read all those suggestions and thought "No, this is Super Bowl weekend. Do less!" We got you. You can – and should! – eat and drink at bars all over the city. These are some of the most popular joints in town for hanging out, and their food ain't bad either.
The Local is a great Irish pub with a patio and TVs that serves beer and Jameson alongside classics like walleye sandwiches, cheddar soup, burgers, and poutine. Also popular with the party crowd – probably due to its cool rooftop lawn bowling setup – is Brit's Pub. They've got an English-style menu with lots of meat pies, fish and chips, and mushy peas.
You'll find more pub fare at The 1029 Bar, a favorite neighborhood spot across the river featuring a lot of seafood and karaoke every night. Nearby at Elsie's, you can go bowling, drink beers, and have bloodies at brunch to feel better about the night before.
If you're really serious about watching more than just the Super Bowl while you're here, head to Mac's Industrial Sports Bar, a laid back place to watch any game. It's got a good beer selection and an excellent Reuben. But if you need a HUGE selection of beers to be comfortable, bounce over to Republic, where they've got 104 tap lines. Completely unnecessary, but they weren't named one of the best beer bars in the nation for nothing.
If you're more hip than all these options and find you need a snazzy cocktail instead, then pop over to Marvel Bar in the North Loop for fancy drinks. It's a busy speakeasy with a creative menu.
And Don't Forget the Breweries!
You're in a city filled with breweries and taprooms, so you're pretty much required to check out a few while you're here. If you can spare a day, you may want to take a brewery tour with Bitter Minnesota or Hoppy Trolley, companies that can hook you up with a driver and a guide.
Or, because there are so damn many breweries in this town, you could actually DIY a tour of your own pretty easily. Just head over to the Warehouse District and you'll be able to walk between four different breweries: Fulton Brewing Taproom, InBound Brew Co., Modist Brewing Co., and The Free House.
If you're closer to downtown, you can head to Clockwerks Brewing, Lakes & Legends Brewing, Sisyphus, FINNEGANS Headquarters, or Day Block Brewing Company, depending on where you're located. You may want to get a ride though!
Across the river to the north of downtown, you can visit the highly regarded Dangerous Man, Indeed Brewing Company, or Fair State. And one of the most popular breweries in town is the sprawling Surly Brewing out near the University of Minnesota. They've got great beers and amazing bar snacks.