Updated: 1/19/2018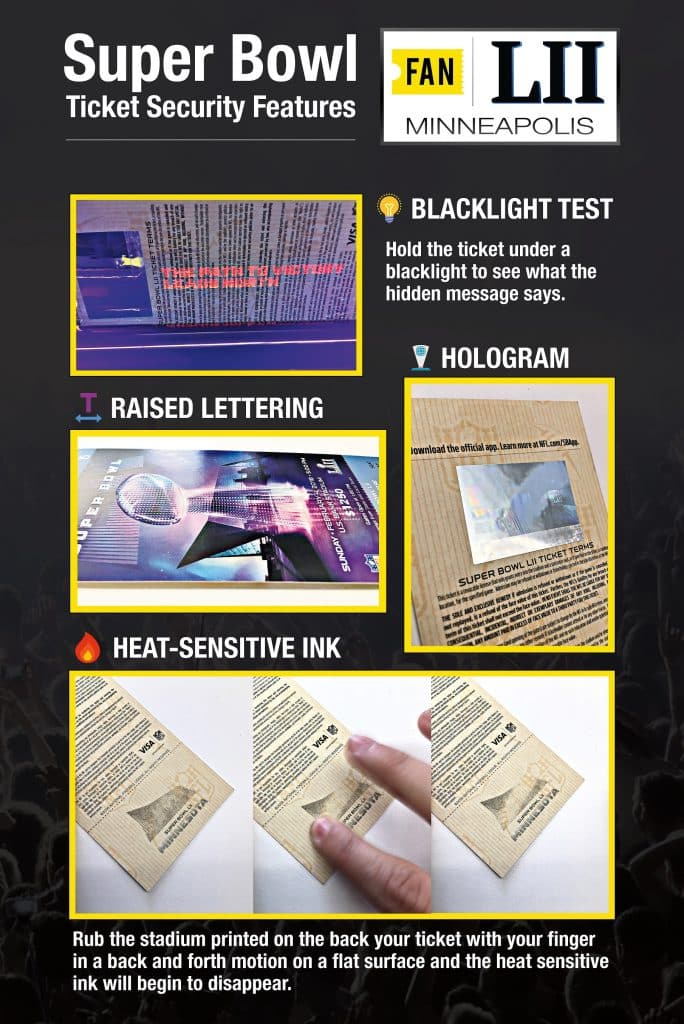 Years ago, the NFL produced Super Bowl tickets with holograms and everybody thought that was just the Holy Grail of tools to combat counterfeiters.
Ha, yeah right! Today we've got heat-sensitive ink! And that's just one of many intense measures the NFL uses to ensure your tickets are the real thing…
While the 1980s brought holograms to fight crime, since then the bad guys have gotten a handle on that. So ticket-makers have stepped up their game accordingly. Today there's no shortage of features on a Super Bowl ticket that make it unique, and they're pretty unbelievable. (But yeah, they still use the holograms. A few of them, actually.)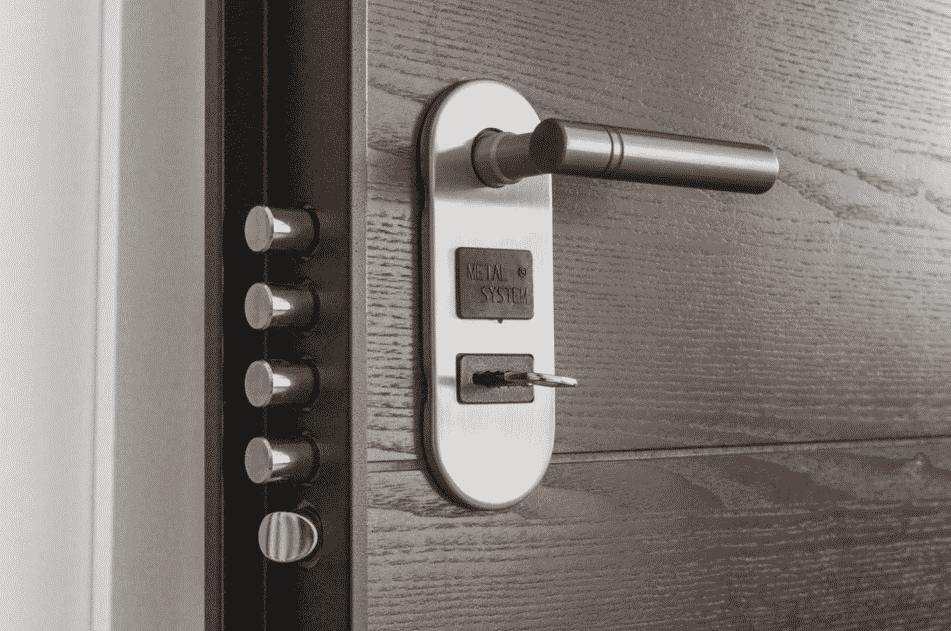 Tech-Free Security Measures
First of all, despite the exponential increase in technology over the years, you can still only get into the stadium on the day of the Super Bowl with a physical paper ticket. So retro, right? Digital tickets and PDF printouts of e-tickets are just so much easier to forge and steal.
Second, there's some crucial timing involved to prevent tickets from being counterfeited. The NFL doesn't release the tickets or even display that year's artwork, design, and unique plethora of security measures until a week or two before the big game. For Super Bowl 50, they held onto every single ticket until five days before the game. This gives the counterfeiting criminals less time to study the tickets and nail an exact replica.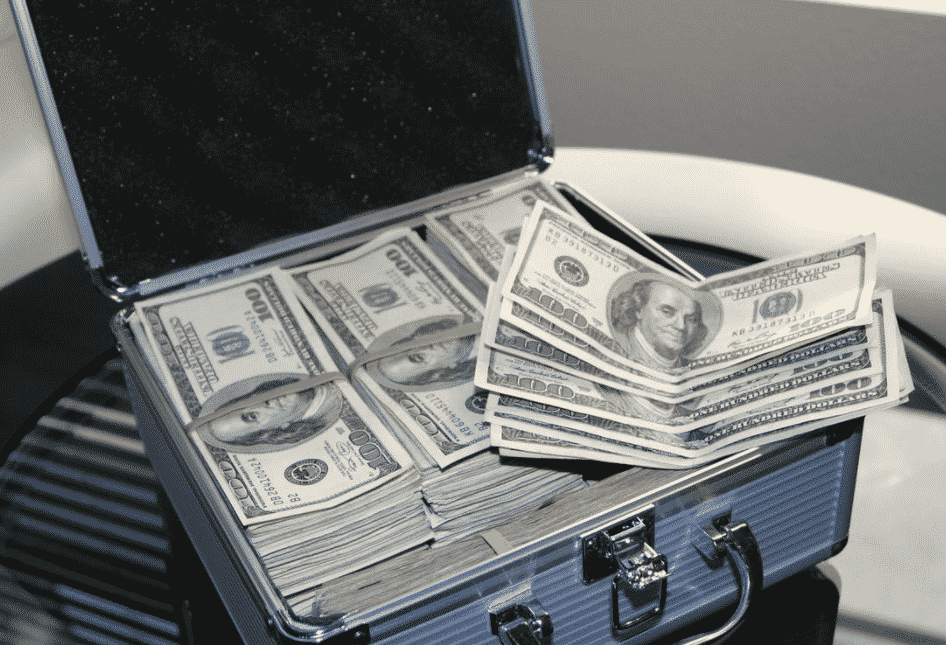 All the Bells and Whistles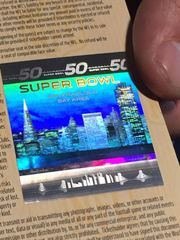 There's plenty of other tricks and techniques involved in making these golden tickets. Actually they're worth more than their weight in gold, but I digress…
Super Bowl tickets still have holograms. Usually at least two. But these aren't the holograms from the 80s anymore – things have gotten fancy! They're three-dimensional and move when you tilt the tickets, often displaying two separate images. And they might even be location specific. For example, the 2015 tickets had holograms depicting the sun rising over Arizona and in 2016 it was an actual photo of San Francisco. (Fake tickets usually have stickers that imitate these snazzy holograms, but they may not even change when you move the ticket – talk about amateur hour!)
The NFL was also using custom laser cutouts as of 2010 (maybe earlier). Certain things in the tickets – like dates – have been laser-cut so that when you hold them up to the light, you can actually partially see through the ticket.
Oh, and make sure you feel your tickets too! They're embossed with raised lettering and have certain designs which are actually etched engravings, which means you can feel some of the logos and numerals.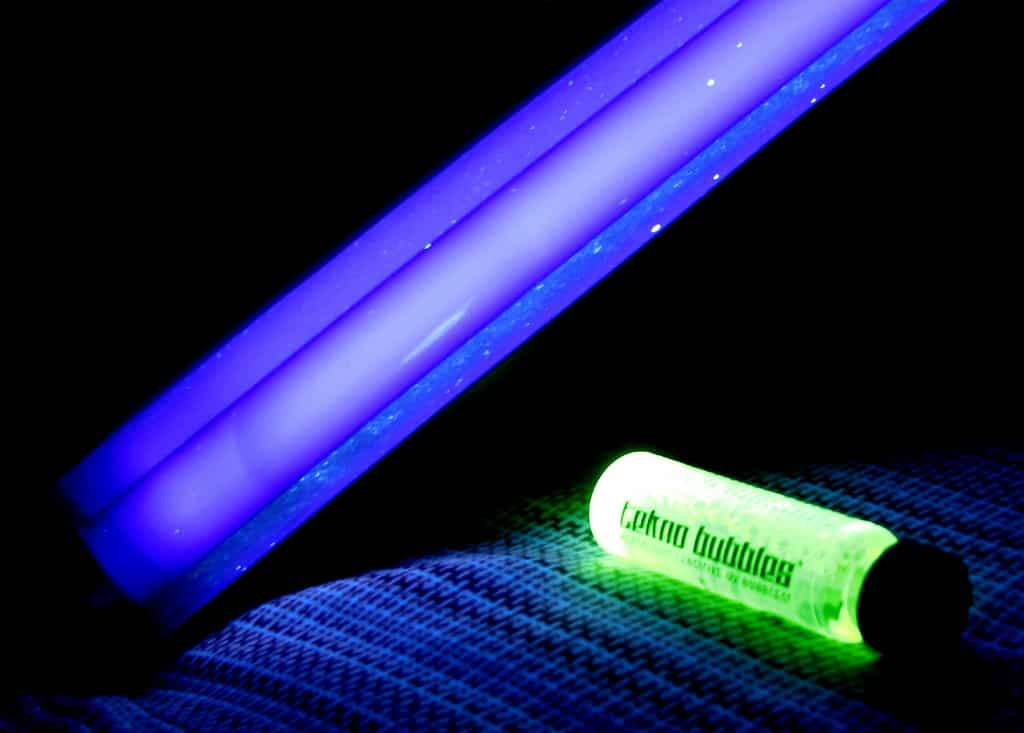 And then you're gonna want to grab your blacklight. What? You threw yours out after high school? Well that little $10 investment can show you if that scalper's ticket is legit. There are lots of symbols, shapes, and asymmetrical codes on the tickets that only appear under blacklights. And they change every year. In the past, the tickets have also contained yellow fibers that glowed under blacklight as well. Might be worth it to borrow one from your weird stoner nephew for the weekend of the big game!
Just kidding! NEVER buy Super Bowl tickets from a scalper! You're not a professional ticket inspector and you likely won't be able to tell a really good counterfeit from the real thing. Especially in the heat of the moment with that wad of cash burning a hole in your pocket. Getting turned away at the stadium door a few thousand dollars lighter? Talk about heartbreak.
You should also check the unique number printed beneath the barcode – it'll be embedded in multiple places across the ticket. That barcode matches one seat, and once it's scanned, no ticket that matches it will allow anybody to enter.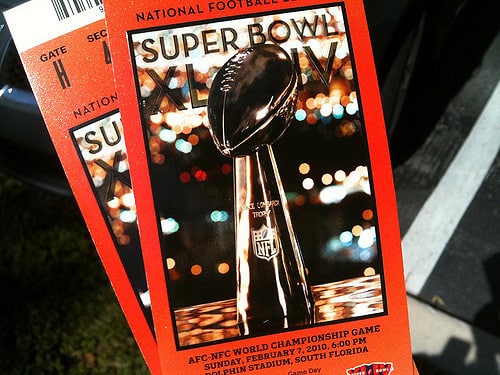 This might sound obvious, but the tickets are also printed on excellent quality paper with elaborate designs… I mean you're paying enough that they should be printed on platinum but whatever. The tickets have a nice heft to them and the printing is crisp, clear, and nice to look at. It may even include silver foil. The color of your ticket may even vary a bit based on your seat location. The face and edges of the ticket should also be flawless – according to the NFL, the tickets are coated with a "specially-made gloss varnish."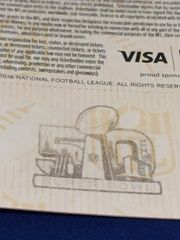 Finally, the coolest security feature ever: Heat-sensitive ink! The tickets these days – and for the past 10 years or so – have had images printed in thermochromic ink. Things like the host stadium, the field, or even a drawing of the Vince Lombardi trophy will disappear when you rub a finger over them. The image may be innocuous and printed in any color somewhere on the ticket, but it'll fade completely when it's warmed by your touch (or anything else). Then that image will reappear once the ink cools less than four seconds later. High level stuff right?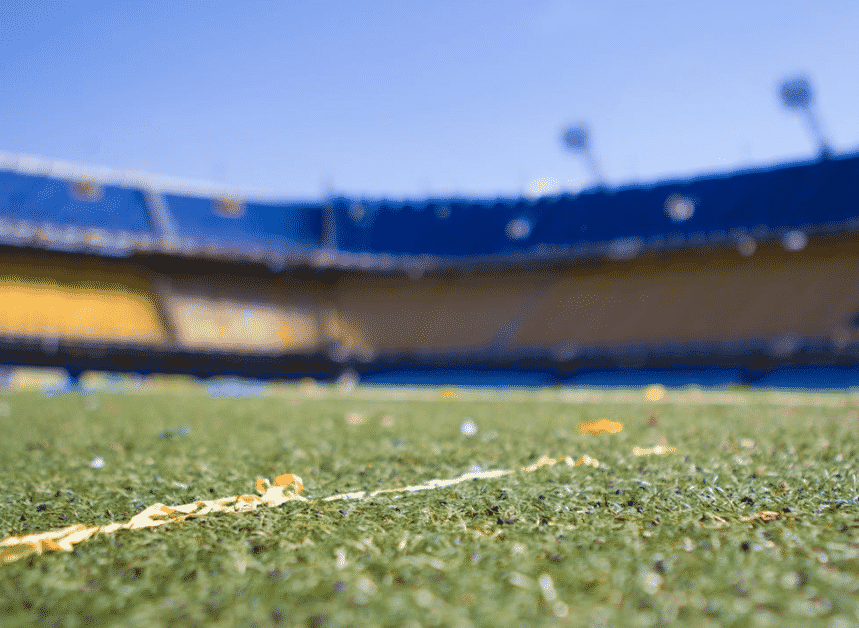 What To Do With Your Ticket After the Game
So if you happen to get your hands on one of these pricey, technologically advanced slips of paper that grant you access to the biggest sporting event in America, don't lose it! That's pretty much your most valuable souvenir. Assuming you don't know a guy on the team who can slip you one of the game balls…
The good news is – if you can part with the sentimental value of the ticket and you don't have big plans to frame it somewhere in your man cave – Super Bowl ticket stubs are highly collectable. You can re-sell those bad boys for hundreds or even thousands of dollars to the right people. So treat them with care and for the love of God, don't fold them or tear them! (Why else do you think so many folks walk around with those lame lanyards and plastic ticket covers?) Just hang on to them, and one day they might be "vintage."