As you may know, a couple years back, the NFL did away with its Super Bowl Ticket Lottery, a random drawing that gave a few hundred lucky fans the opportunity to purchase tickets to the big game at face value. It was never a complete giveaway, but then again, it's impossible to get tickets at face value so, yes, it pretty much was. Well, the NFL decided to scrap the lottery idea and put more of a meritocracy into place. For the past couple years, they've decided to give away 500 Super Bowl tickets to fans who "exemplify the heart of their team's spirit."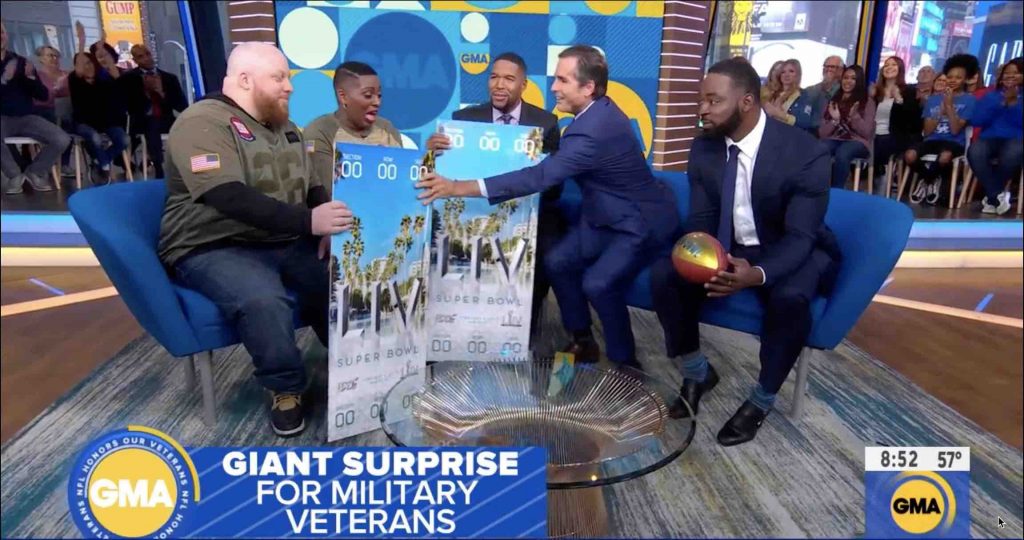 While we're not exactly sure how the NFL decides who its "most deserving fans" are, we have seen a few ticket giveaways highlighted in the news. For instance, a fire chief suffering from cancer, police officers who coach little kids in their spare time, an entire youth football team, and some Seahawks fans who were just at the right place at the right time! You can read more about last year's Super Bowl ticket giveaways in this blog post, but fair warning, it's a tear-jerker! Meanwhile, here's what we know about the NFL's Super Bowl ticket giveaway so far this season…
Need tickets of your own? You can still get great prices on Super Bowl tickets with Fan Hospitality. And we'll never add on any crazy service fees! Shop tickets and packages now!
Has the NFL given away any tickets this year?
Yes! If you've been watching Good Morning America, you may already know about one giveaway. The NFL is a big supporter of US military veterans, so they teamed up with the Bob Woodruff Foundation to give tickets to Michael and Star Cathcart, a couple of Navy vets who met on their deployment in Afghanistan and later married. They even got a personalized thank you letter from Michael's favorite NFL player, Justin Tuck, and received their tickets live on TV. The foundation agreed to cover flights and hotel rooms for the weekend!
Then, just a couple of weeks ago, down in Miami-Dade County, former Dolphins wide receiver Chris Chambers stopped by the Nicklaus Children's Hospital to surprise a volunteer with two tickets to Super Bowl 54. Cristian Aleman, a bone cancer survivor who volunteers with kids and their families in the hospital, thought Chambers was just going to sign a football before he presented him with two tickets to the big game. Aleman says he's going to take one of his closest friends with him.
Over in Alabama, former Crimson Tide star and first-round pick for the New York Jets Quinnen Williams showed up to surprise cancer survivor and huge Jets fan Allen Smith with tickets. Williams lost his mom to breast cancer and he teamed up with the American Cancer Society to give away two tickets to Smith, who survived stage 4 gastric cancer while spreading positivity throughout his battle. They sat down together and shared stories about cancer's impact on their lives.
Giants' Kareem Martin surprised "MattyIce," an assistant football coach who has Down syndrome, with tickets to the Super Bowl 🙏

(via @NFL) pic.twitter.com/HJR7y4rYz3

— B/R Gridiron (@brgridiron) October 12, 2019
If you're not already crying, you may also want to hear about how the New York Jets' Kareem Martin delivered Super Bowl tickets to Matt Gray, a volunteer high school football coach with Down syndrome. During halftime of a Park Ridge High School football game in New Jersey, where the 21-year-old Gray has been passionately volunteering since he was in school there, Martin showed up to deliver the surprise. Gray – known by the nickname Matty Ice – is a big Giants and Falcons fan, a legend in the community, and a dedicated and loyal presence at these football games.
Down in Florida, Fort Myers High School football coach Sam Sirianni was also presented with Super Bowl tickets at halftime of one of his games. NFL free agent Tommy Bohanon, a former North Fort Myers player himself, said, "The NFL really wanted to come out and express their gratitude and how much you really mean to this community." Sam and his late father made up the only father-son coaching team in Florida with more than 100 wins at the same high school.
Fort Myers High School Football is celebrating its 100th season! The NFL is inspired by Head Coach Sam Sirianni's dedication to his team and thought it would be nice to reward him with a #SuperBowlSurprise.

Coach Sam, we will see you at @SuperBowl LIV! pic.twitter.com/3VlPGGBypK

— NFL (@NFL) October 16, 2019
And last but not least, NFL Commissioner Roger Goodell presented some Super Bowl 54 tickets himself last week to two UPenn football players. Sam Philippi and Anthony Lotti each selflessly donated bone marrow after being matched by the Andy Talley Bone Marrow Foundation. They thought they were going to do a Skype interview about the donation process, but Goodell popped up on the screen to surprise them with tickets!
Stay tuned for more giveaways as the season progresses. You never know where Goodell or an NFL player might show up to surprise some lucky fans!
Oh, and FYI, the NFL does still hold the ADA random drawing for Super Bowl tickets, and you can read those rules here. 
Your chances of winning the NFL's giveaway might be slim, but you can still get great deals on Super Bowl tickets with Fan! Shop now!
Have you been following the NFL's Super Bowl ticket giveaways in the news?