For the past two years, the NFL has released an app for Super Bowl week for those fans heading to the big game. The Fan Mobile Pass app is available for iPhone or Android phones and the NFL is calling it "the ultimate companion app for Super Bowl events and game day." The Atlanta Super Bowl 53 version hasn't yet been released, but we expect that it's in the works. Here's what we know so far…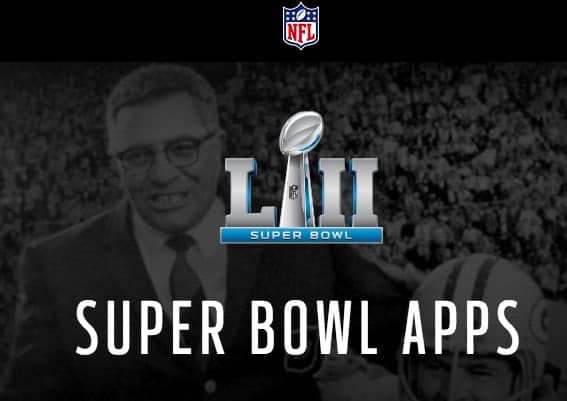 How does the app work? Why should you use it?
The idea is to download the app before you head to the Super Bowl host city. You register for your personalized Fan Mobile Pass before attending all those fun Super Bowl-related activities. The app provides you with lots of practical information about events during Super Bowl week and your Fan Mobile Pass gives you chances to win prizes. It also comes with maps, schedules, and social sharing options. Here's a breakdown of how exactly you can use the app:
Check in to activities. Win prizes (maybe). The app gives users a unique QR code or "Fan Mobile Pass" that you can use to check in to any official events or activities that you attend during Super Bowl week. You just scan your personalized QR code when you arrive! Checking in allows you to collect badges along with photos and videos from your experiences. Those badges give you a chance to win prizes – the more places you check in, the better your chances! (They'll notify you via text or email if you win.)
Get details on events. Learn about activities, events, and experiences ahead of time so you can plan your week. The app will give you all the deets about sponsored events like Super Bowl Live and NFL Experience. It will also provide you with an interactive map and schedule sorted by time and date so you don't miss anything. You can even see restrooms, concessions, first aid stations, and NFL shopping locations on the map. They'll also have location-based alerts so you know what's going on around you, wherever you are.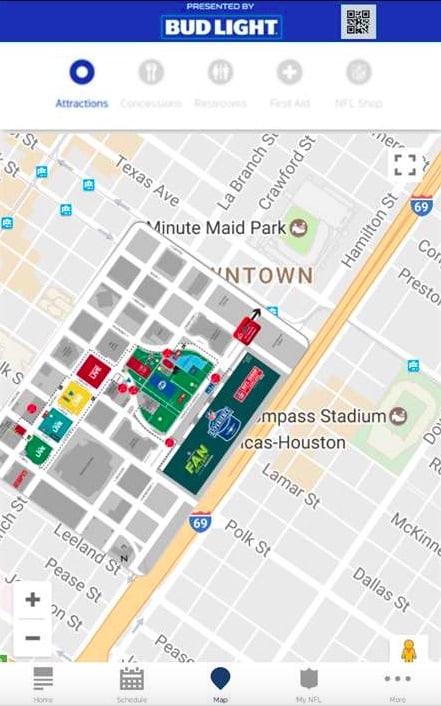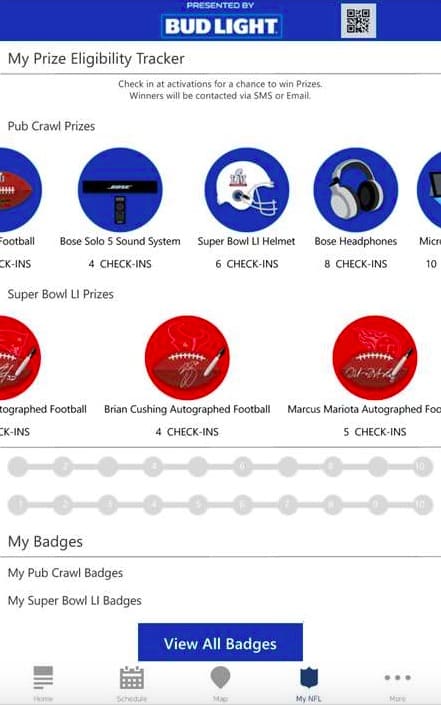 Transportation. Maybe you've never been to the Atlanta before. Learn all about your options for getting around the city, like MARTA, the tram, walking, and parking, plus any game day changes you should know about.
Share. If you're at the Super Bowl and you don't post pics on social media, did you even go? It wouldn't be an app without the option to share everything on social media, so Fan Mobile Pass delivers all your photos and videos from different activations to you via email or your personalized landing page where you can share them to social media… if you want! Last year, the app focused heavily on social media sharing, with promises of opportunities to nab autographs from NFL players and pics of the Lombardi trophy. Oh, and there's a fan facepaint augmented reality feature (aka filter) so that you can show your team spirit.
Shopping. You can also use the app to pre-order merch and pick it up at locations around town. Those with suite tickets will be able to order team merchandise to pick up on Super Bowl Sunday.

What about game day?
Last year in Minneapolis, the NFL consolidated their Super Bowl app and the Fan Mobile Pass into one app to eliminate confusion over which app people should download. They added game day functionality to help users once they got into US Bank Stadium too. They'll have wayfinding maps, although there likely won't be any moving blue dot on your phone – mostly due to all the temporary structures and closed roads that are unique to the Super Bowl.
You'll also be able to use the app to see game highlights and other content from the big game.
How old do you have to be to receive a Fan Mobile Pass?
You must be 18 years or older to register, but you'll be allowed to add up to five minors to your account during registration and you'll all receive your own unique Fan Mobile Pass… so everyone can check in and enter to win prizes.
What if I don't have a smartphone?
Still got a flip phone, huh dad? Well, you can sign up on your desktop computer (assuming you have one of those) and you'll receive your Fan Mobile pass via email. Or you can register at official Fan Mobile Pass events when you arrive and you'll get yours on a business card. So retro.
What's new on the app for Super Bowl 53 in Atlanta?
We're not sure yet, but we'll keep you posted!
Got questions? Check out the NFL's frequently asked questions about the app. Once the new version is ready, you can download it here.
Want to browse tickets to Super Bowl 53? Check out Fan's selection.
What features would you find helpful in a Super Bowl app? Would you download and use it?