Maxim's annual Big Game Experience is always over the top. But this year in Miami, the hard-partying, iconic magazine reached new heights with an incredible location, high-energy performances, and a celebrity-packed guest list.
True to its Havana and Miami-inspired plan, a luxury 40,000-square foot custom venue welcomed partiers dressed to the nines via a red carpet for an unforgettable night. The upscale decor included velvet couches, chandeliers, and art deco themes throughout. In the Know Experiences and Columbia Records teamed up with Maxim to throw this crazy Super Bowl party, and they spared no expense for the lavish digs.
There was plenty of excitement to keep guests entertained all night long! Just in case you couldn't make it, here's a look at the brand activations, performances, and guest list at Maxim Havana Nights over Super Bowl weekend!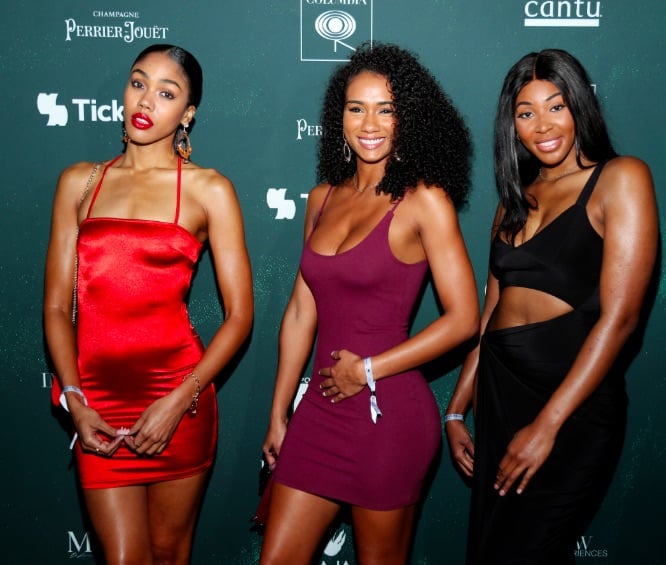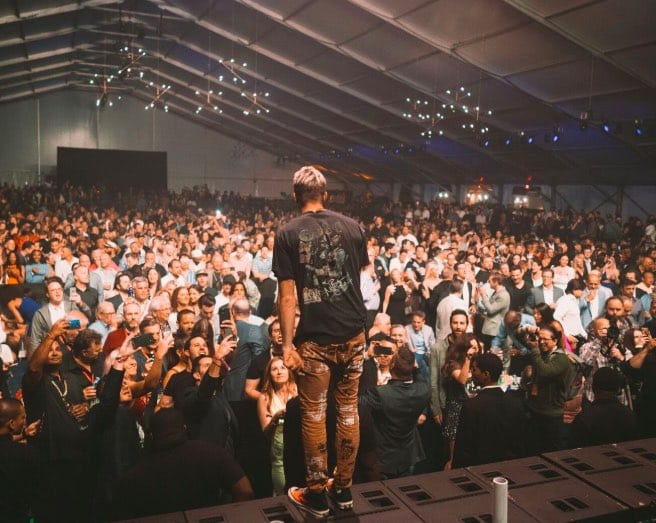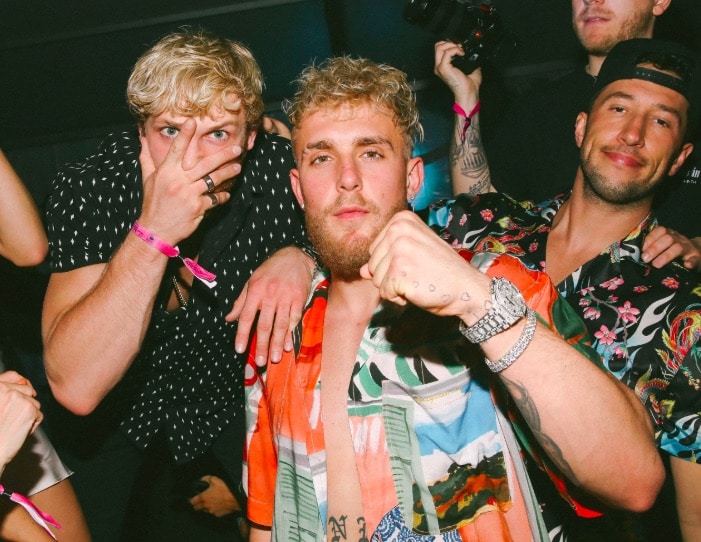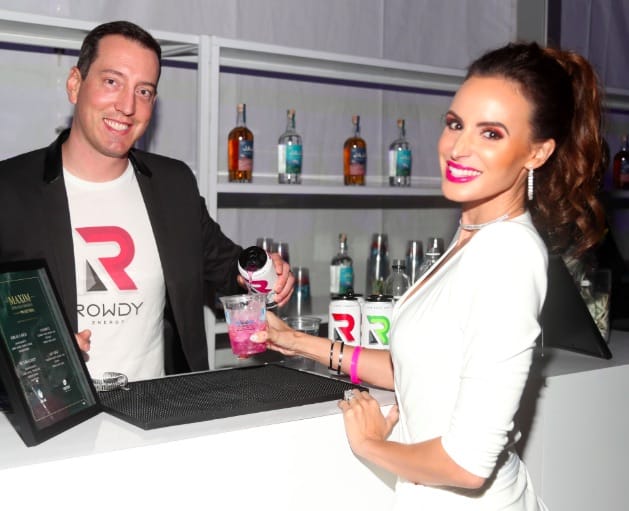 Brand Activations and Sponsors
One of the coolest things about huge, media-grabbing events is that brands think of it as the perfect opportunity to showcase themselves, stand out, and release new products to a crowd of influential guests. Maxim's Super Bowl party was no different.
Luxury offerings and brand activations were everywhere thanks to the night's sponsors. Absolut Elyx introduced guests to a bar in the form of a Ford Bronco. Liquid IV created customized cocktails using all-natural, hydration ingredients (something everyone was sure to need the next morning) and provided a ball pit for guests to dive into for photos! And The Chainsmokers' JAJA Tequila was the official tequila of the night.
Cantu Beauty presented their new Avocado Collection alongside samples, swag, and an interactive swing where guests could snap pics. NASCAR driver Kyle Busch released his new energy drink, Rowdy Energy, and included a taste in the evening's swag bags. And TickPick Plus sponsored an OnStage Table Lounge with complimentary bottle service right next to the night's performances.
Oh, and there was so much free stuff for guests! They went home with gift bags packed with samples from brand partners like Zen, KJL CBD, Rowdy Energy, Defiance Fuel, and more. There was even a charity auction that raised money for the party's official charity partner, Best Buddies International.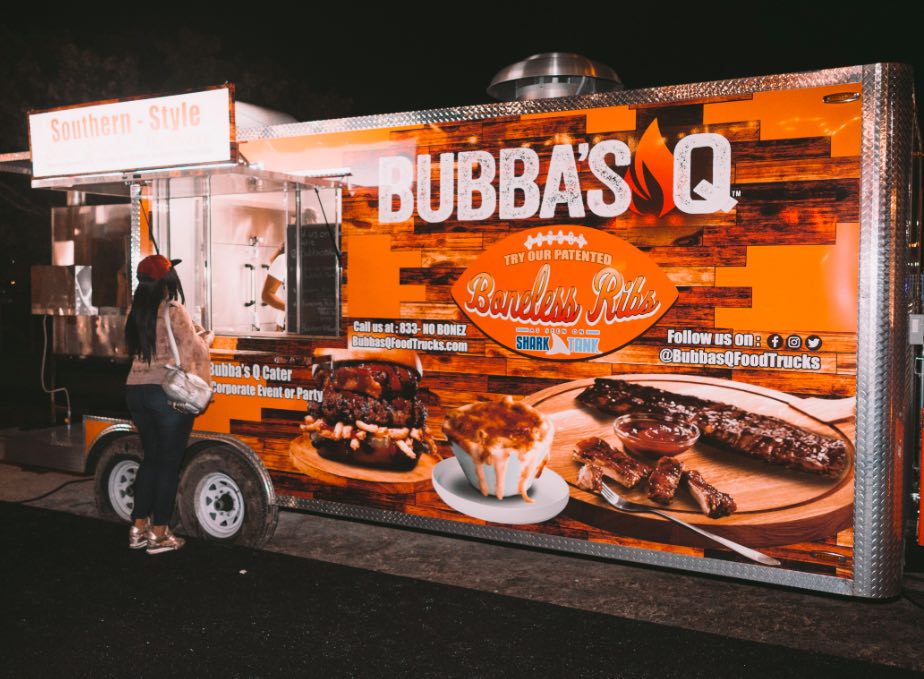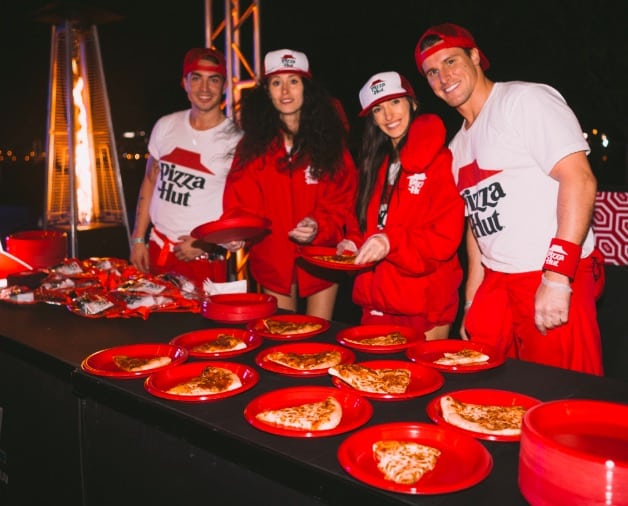 As for food, guests were treated to bites from Bubba's Boneless Ribs food truck (owned by former NFL star Al "Bubba" Baker) along with wings and fries from Wingstop and crucial late-night pizza by Pizza Hut.
Other sponsors for the evening included Sports 99, HCB Yachts, The Legends Group, BoomCups, Ashley Avery Agency, and The Kess Group.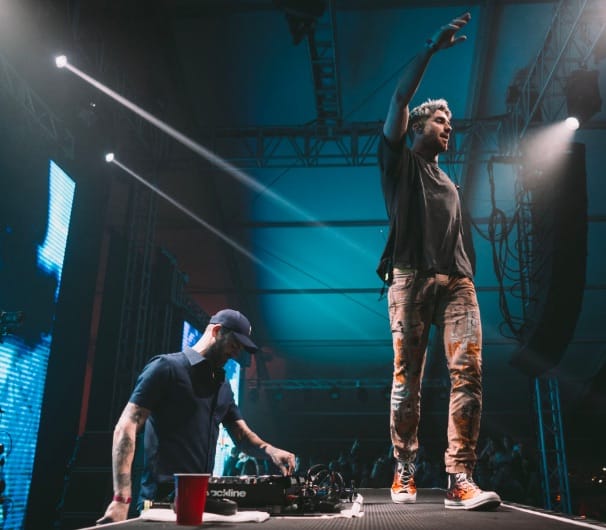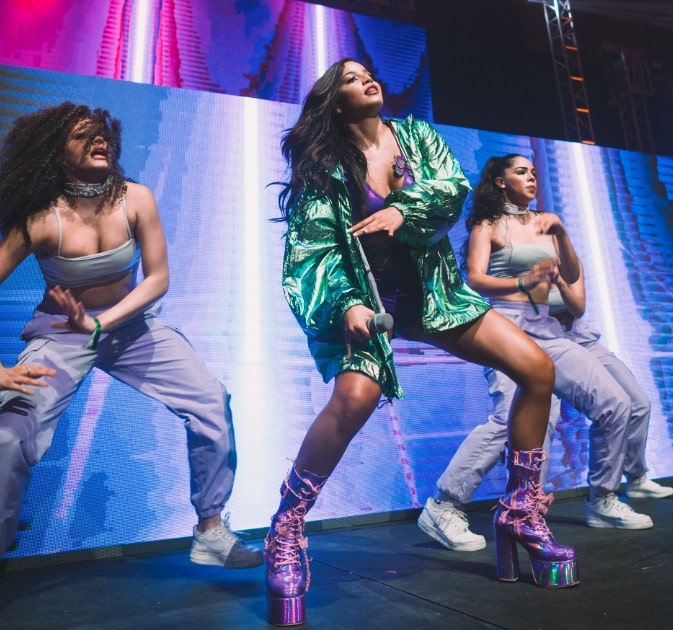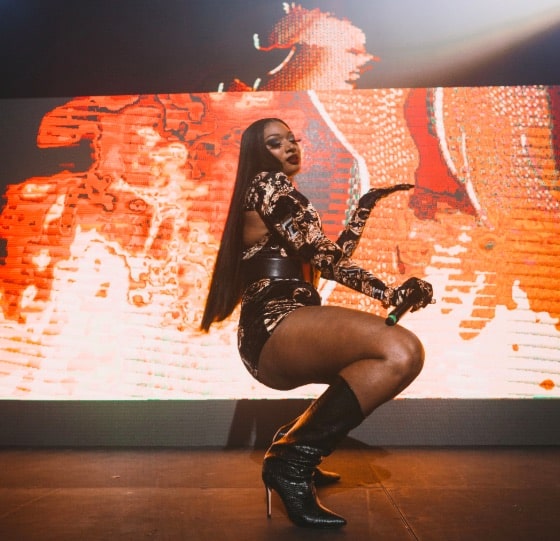 Maxim's Performances Were Epic
The list of performers was even longer than initially expected. The Grammy-winning Chainsmokers headlined the event, and fans were also treated to performances by rapper Megan Thee Stallion, after which there was a surprise fireworks display that lit up the sky.
Rapper Russ, DJs the Lost Kings, Chase B, Rick Ross, and Latin artists Luis Figueroa, MYA, and Emilia also performed.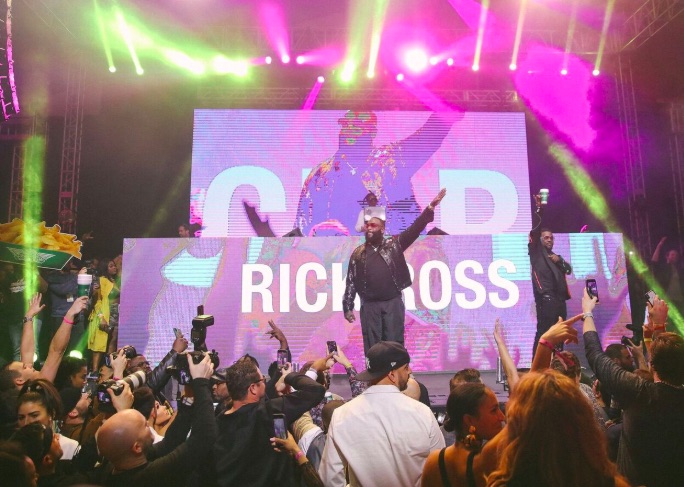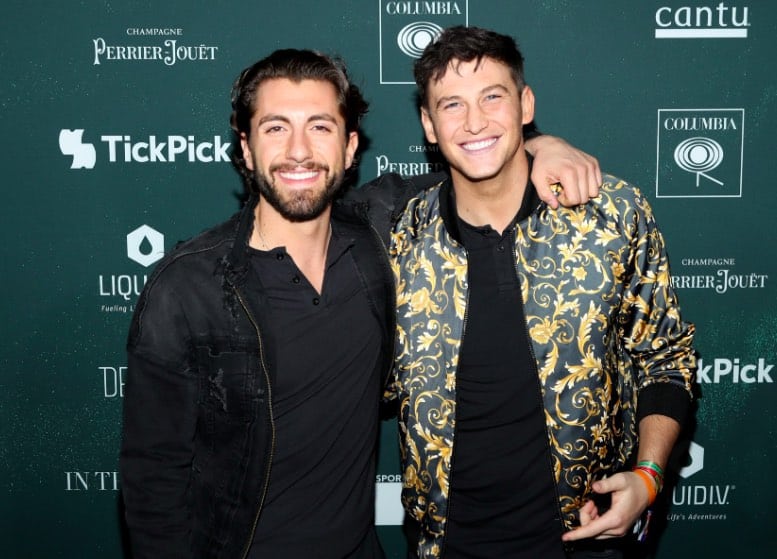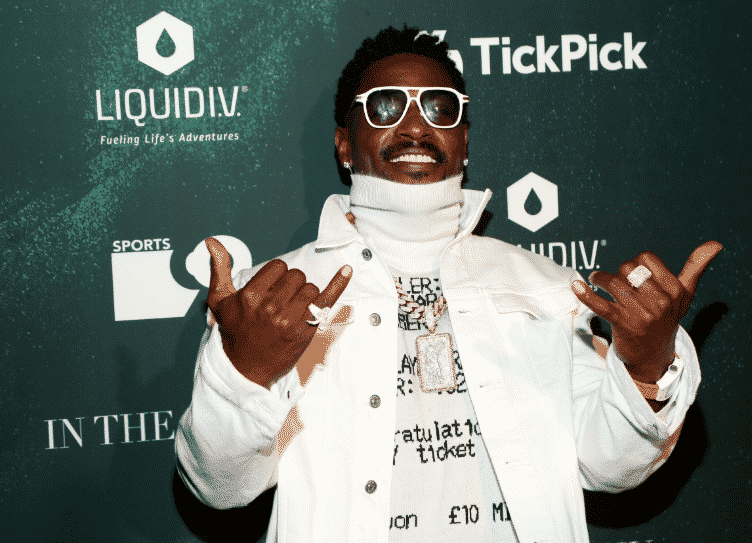 Stars in Attendance at Maxim's Super Bowl Party
Wow, this is a long list! Let's just say if you were an ordinary guest at this evening's festivities, you might've been a little starstruck. The celebs really turned out for Maxim Havana Nights – the guest list was packed the likes of famous actors, musicians, models, reality TV stars, influencers, and professional athletes.
Stars at the party included G-Eazy, Halsey, Lil Nas X, Jeezy, Cuba Gooding Jr, Dak Prescott, Swiss Beatz, Peter Weber, Antonio Brown, Odell Beckham Jr, Saquon Barkley, Adrian Peterson, TJ Ward, Karreuche Tran, Jake Paul, Tana Mongeau, Emilia Mernes, NeNe Leakes, KP the Great, Farina, Teyana Taylor, Monica Sims, Iman Shumpert, Walter Powell, Reggie Corbin, Logan Paul, Carlos Dunlap, Daniel Draper, Jason Tartick, Ronnie 2K, Blake Horstmann, Olivia Davis, Tyler Cameron, Karrueche Tran, Victor Cruz, Shiggy, Kyle and Samantha Busch, and more.
And of course, the Maxim models were there to bring out the bubbly and keep the party going all night!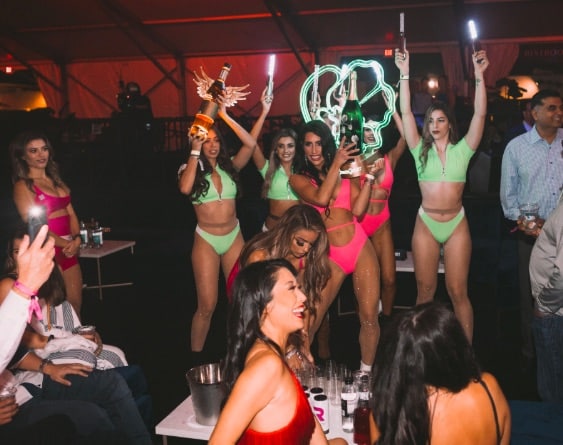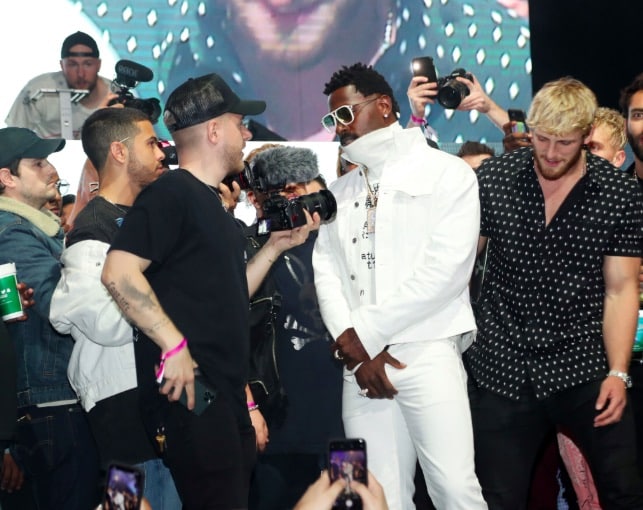 Notable Events? Well, Logan Paul and Antonio Brown Agreed to Fight
It was an evening of dancing, drinking, mingling, fireworks, and photo snapping. But there was one particularly exciting event that went down in front of everyone…
There's been some ongoing social media back-and-forth between former Patriots wide receiver Antonio Brown and viral YouTube sensation Logan Paul. Neither of these guys are strangers to drama, and they were both in attendance on Saturday night. Over the past month, Paul has repeatedly challenged Brown to a boxing match, and Brown has toyed with the idea, saying he'll win and donate the money to charity.
The two finally met face-to-face on stage at the Maxim Havana Nights affair over Super Bowl Weekend. And from what we've heard, it seems like they've come to an agreement. TMZ has footage of Brown saying "let's do it."
TBD if it actually goes down…
So… are you getting in on Maxim's Super Bowl Party shenanigans next year?